The mercury's dropping, snow is in the air and Orion rules the night sky. All signs point to winter—the season that induces cabin fever like no other. It's time for a vacation, and whether you're hoping to embrace the cold or slip off to sunnier climes, Natural Habitat Adventures has you covered.
Will it be watching the northern lights in the Great White North? Kayaking through mangroves in the Sunshine State? Or maybe taking the ride of your life on Maui? Whichever path you choose, you can't go wrong. All our trips are carbon-neutral, travel in small groups and are led by conservation-first Expedition Leaders. They're also developed in concert with our partner, World Wildlife Fund, so whatever the weather, you can help protect nature, support local economies and preserve local cultures in the places we travel.
Chill Out: 5 Winter Getaways to Embrace the Cold
1. Manitoba, Canada: Light Out for the Great White North
Churchill's long winter nights, clear skies and coveted real estate below the Van Allen radiation belt—a celestial zone teeming with highly charged particles—make it the Broadway of aurora borealis viewing. But trust us: The best shows are those seen from heated theaters.
On Nat Hab's Northern Lights & Arctic Exploration trip, travelers can watch the spectacle from a wood stove-warmed cabin in the woods, a custom-built Aurora Pod® with 360-degree views of the night sky, Aurora Domes, and a toasty teepee with a cozy campfire. The tour's traditional dog sled rides, snowshoeing excursions and cultural encounters with First Nations, Metis and Inuit peoples are equally illuminating.
Good to Know: Amid the Arctic's record-paced warming, WWF collaborates with local communities and Indigenous groups in the region to establish protected areas, develop renewable energy systems and promote sustainable fisheries.
2. Yellowstone National Park: Slip the Summer Crowds
For most travelers, summer's typically the first season that comes to mind when planning a visit to America's first national park. But here's a secret: Winter in Yellowstone is especially sublime.
"It's my favorite time to be in the park," says wildlife biologist Aaron Bott, who joins Nat Hab tours to speak about wolf ecology.
No wonder: Geysers steam, snow-covered expanses sparkle and a slew of wildlife stands out against the park's wintery terrain. Sans summer crowds, visitors also have more room to take it all in, particularly on Nat Hab's small-group Yellowstone: Ultimate Wolf & Wildlife Safari. Guests track wolf packs with biologists in Lamar Valley, pilgrimage by private snow coach to Old Faithful (inaccessible to regular vehicles in winter) and meet professional nature photographer Dan Hartman at his gallery in nearby Cooke City.
Good to Know: To help safeguard Yellowstone National Park's genetically important bison (preserving genetic diversity is essential to the species' survival), WWF's Northern Great Plains Program works with Native American reservations to bring portions of the park's source bison herd into additional reserves.
3. Northern India: Keep Company with Some Pretty Cool Cats
It's the ultimate "peak" adventure. Nat Hab's Land of the Snow Leopard tour takes travelers high into the Himalayan landscape of Ladakh in search of this wildly elusive feline. Masterfully camouflaged against their mountain terrain, snow leopards are super athletes, capable of sticking to the steepest of slopes, sprinting up to 40 miles per hour and leaping six times their body lengths. Fortunately, our local guides double as expert trackers, meaning there's a solid chance of sightings on your journey. Pro tips for spotting Panthera uncia: Keep your eyes peeled and your head up!
Additional trip highlights include staying in a private mountain ecolodge and tapping into Tibetan Buddhist culture on visits to local villages and monasteries.
Good to Know: Preventing poaching and reducing human-wildlife conflict are among WWF's top priorities for snow leopards, whose numbers are estimated to be as low as 4,000 across Central and South Asia. Nat Hab also makes a donation to the Snow Leopard Conservancy India Trust for each traveler on this trip.
4. Antarctica: Sail the White Continent
The ultimate winter wonderland, Antarctica wows with impossibly blue icebergs, a menagerie of migrating seabirds and marine life, and—ideally—a sublime solitude. That's why Nat Hab's preferred way to see the Seventh Continent is on a small sailing vessel (read: not a larger cruise) with only seven guests. Voyaging aboard an ice-strengthened motorsailer, travelers on our Sailing Antarctica: A Polar Wildlife Expedition can experience The Ice at its most wild.
During your trip, you'll also set out on the quietest of kayaking excursions, learn from the ship's naturalists and spend time ashore, including up to three nights camping in a remote location you can truly call your own.
Good to Know: WWF collaborated with Apple to create the citizen science app Wildcrowd, which lets travelers and naturalist guides record wildlife sightings on the White Continent, in part to heighten understanding of how climate change affects animal feeding habitats.
5. Arizona: Ring in the New Year in a Grand (Canyon) Fashion
Grand Canyon National Park has a way of giving visitors the winter blues—in the best possible way. The park's blessed with ample sunshine, even during the winter, meaning you're likely to see plenty of blue skies that contrast beautifully with the spectrum of red, pink and gold canyons and cliffs, often dusted in a light powdering of white.
See the season's spectrum—and toast 2024 during a celebratory dinner—on a Grand Canyon New Year tour from Off the Beaten Path, one of Nat Hab's travel partners. End the trip with a couple of days in the red-rock wonderland of Sedona, where you'll absorb the beautiful surroundings with hiking, a jeep tour and a spectacular evening of stargazing.
Good to Know: WWF's initiatives to curb climate change reach all corners of our planet, including the Grand Canyon and other precious national parks, whose warming temps and increasingly dry conditions make them more susceptible to forest fires.
Warm Up: 5 Winter Getaways to Escape the Cold
1. Mexico's Central Highlands: Be Mystified by Monarchs
Monarch butterflies' annual wintering in central Mexico's fir forests is "one of the most spectacular things you'll ever see," says Court Whelan, Nat Hab's director of sustainability and author of The Monarch Migration: A Journey through the Monarch Butterfly's Winter Home. It's also one of the most spectacular things you'll ever hear. "They sound like rustling leaves as they take flight by the millions," he adds.
Three visits to locally managed sanctuaries in Mexico's Monarch Butterfly Biosphere Reserve provide sufficient time to fill your senses on Nat Hab's Kingdom of the Monarchs tour—and learn how butterfly conservation creates sustainable economic opportunities while saving forests.
Good to Know: Nat Hab's tour "not only helps promote the ecotourism concept by leaving money in local communities, but it also builds awareness," about this endangered species, says Whelan. WWF's monarch outreach includes partnering with local governments and communities to protect Mexico's hibernation grounds.
2. Mexico's Baja Peninsula: Get Acquainted with Gray Whales
Monarchs aren't the only species in on the secret. Gray whales also flock to Mexico each winter, swapping frigid Alaskan seas for Baja's warmer waters—and their buffets of plankton blooms. Their annual return to their feeding and breeding grounds—our planet's longest mammal migration—is also a boon for travelers on Nat Hab's Great Gray Whales of Baja adventure. Count on plenty of close encounters with these friendly giants, who often swim alongside skiffs and dazzle with their breathtaking breaches.
You'll also love staying in "whale cabanas" at a waterfront eco-camp in San Ignacio Lagoon and surveying salt flats at El Vizcaino Biosphere Reserve.
Good to Know: Pods of gray whales wintering in San Ignacio Lagoon get routine "checkups" from a WWF-supported research team, which monitors their population size and health.
3. Southern Florida: Find Magic in Mangroves
Coastal mangroves are critical for sequestering carbon, filtering pollutants before they reach the sea, and providing food and shelter for a myriad of flora and fauna species from mollusks to manatees. Their labyrinthine networks are also magical to explore, particularly on Nat Hab's Florida Nature Safari, which has travelers stand-up paddleboarding along mangrove-lined waters in Biscayne National Park and kayaking with local biologists through mangrove tunnels in Rookery Bay.
Also on the itinerary: a private airboat tour in the Everglades, home to the western hemisphere's largest mangrove ecosystem; a low-altitude flight over Dry Tortugas National Park to spy shipwrecks and sharks; and birding in Audubon's Corkscrew Swamp Sanctuary. Oh, and we almost forgot—daily infusions of the Sunshine State's famous vitamin D!
Good to Know: In Florida, WWF helps protect mangroves and manatees from increasing threats, including pesticides, unsustainable coastal development, overfishing and climate change.
4. Cuba: Connect with Community
Paladares—privately owned restaurants often located in a family's home—offer some of Cuba's most memorable meals. They also provide direct economic support for local communities. Travelers can tuck into classic paladar dishes, such as ropa vieja and yuca con mojo, on a Cuba Cultural Walking Adventure with Nat Hab partner Classic Journeys.
The trip is stacked with additional opportunities to support small businesses. Meet food producers at a farmers' market in Havana, artists in their homes in Trinidad and coffee growers on their family estates in the Escambray Mountains. Carbon-free adventures like a walking tour through Old Havana with a local historian and snorkeling among coral reefs in the Bay of Pigs also let you put your best foot (and flipper) forward.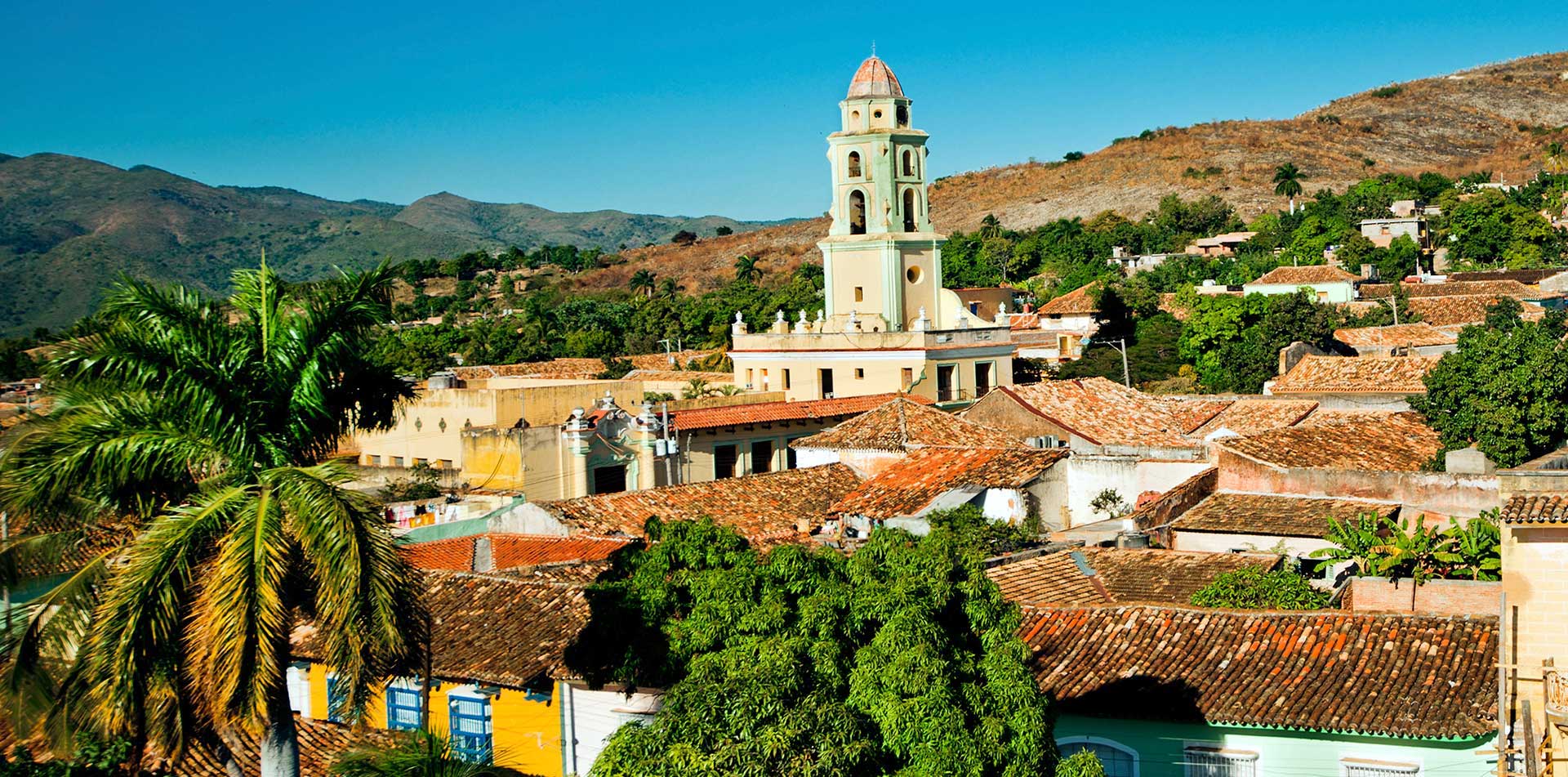 Good to Know: WWF's global food-focused initiatives include working with the U.S. Postal Service to bring fresh-picked produce from farm to table. Bonus: This effort also helps limit food waste.
5. Chile: Take a Wild Ride
Talk about a cycle of life. A Chile Lakes + Volcanoes Bike Tour from Nat Hab's travel partner Duvine visits some of the most lush landscapes of this South American country, including Huilo Huilo Biological Reserve, a sanctuary of wildlife and nature at the base of the Andes, and Vicente Pérez Rosales National Park, home to the lava-etched Petrohué Falls.
Cyclists also take a spin through Chile's culinary culture during a visit to the town of town of Curarrehue, where you'll learn about traditional Mapuche foods and the cooking rituals that have endured for millennia.
Good to Know: WWF's work to protect our planet's wildlife includes many species found in Chile, including the Andean condor.