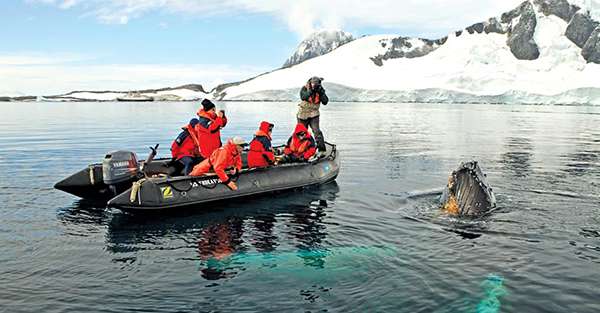 Walk the shoreline amid a giant colony of penguins. Weave in and out of magnificent icebergs on a Zodiac excursion. Kayak along a cliffside rookery to look at blue-eyed shags. Capture amazing photographs of whales, seals and flocks of seabirds. These immersive nature experiences can be yours on your journey to Antarctica: The White Continent.
Natural Habitat Adventures is pleased to offer Antarctica adventure cruises through Lindblad Expeditions, our partners in exploration and conservation. Linblad's small expedition ships allow for intimate encounters with wildlife, and—thanks to highly qualified expedition teams and the many unique tools aboard each ship—we go a step further to deliver an even deeper level of immersion. Our varied daily excursions provide unmatched opportunities for exploration of this vast, frozen wilderness at the bottom of the world.
Search the Sea
From kayaks that easily and safely deploy within minutes of anchoring, you can get up close and personal with majestically sculptured icebergs and a profusion of marine wildlife. Kayaking in Antarctica allows you to explore at your own pace and offers a completely different perspective on grandeur of The White Continent. You will feel small and full of awe as you paddle through the world's last true wilderness in a stable vessel that puts you at eye level with the water. Each expedition ship carries a fleet of Zodiacs, maneuverable motorized crafts that allow us to take guided excursions where we can observe abundant wildlife, including whales, seals and sea birds.
Wander Ashore
Meander the shoreline of the famed South Georgia island among massive colonies of penguins. Hike to a perch offering a commanding view. Walk in the shadow of massive ice-clad peaks and glaciers. Forays onto shore—made possible by Zodiacs that can easily maneuver and land—offer yet another dimension to your Antarctica adventure and your comprehension of this icebound landscape.
Several of our itineraries feature visits to the iconic islands of South Georgia & the Falklands, offering you even more time ashore, surrounded by the dramatic natural landscapes and wildlife spectacles that have made these islands of the Southern Ocean so legendary.
Dive Deeper
Have you ever dreamed of visiting Antarctica's seldom-seen underwater world? Well, stop dreaming. Features unique to Lindblad's expedition cruises—an undersea interpretive specialist who dives into polar waters and a remotely operated vehicle (ROV)—mean you can explore these icy waters without even leaving the comfort of the ship.
Donning almost 200 pounds of gear, the undersea specialist dives deep into the icy Antarctic water while shooting footage of the world underwater. This means you stay warm and cozy above while watching the live footage and listening to narration from the specialist that reveals an underwater realm teeming with life and a myriad of wonders. As if this isn't incredible enough, the ROV goes further underwater than any human can, bringing back incredible images from up to more than 1,000 feet below the ocean surface.
These amazing exploratory mechanisms, unique to our adventure cruises to Antarctica, South Georgia island and the Falkland islands, give you the opportunity to discover the wonders that make the seventh continent so incredible.
So, if you've been thinking of heading to Antarctica—or want to return for a second time—don't hesitate any longer. Check out our Antarctica expedition itineraries today!
This guest post was written by Chris Kassar, an intrepid adventurer and a freelance writer for Nat Hab.