Does anything shout springtime more than a field of cheerful, colorful wildflowers? While we often give the natural scenery and the wildlife top billing when it comes to visiting our national parks, these fleeting flowers deserve their own recognition. The northern parks—think Montana and Alaska—have short wildflower seasons, so plan appropriately if that's what you're after, while Yosemite and the Everglades show off their floral flair year-round. Here, we take a look at what wildflowers you can see, when to see them, where to see them, and even how best to photograph them at five of our favorite national parks.
Yellowstone National Park
You know spring has sprung in Yellowstone when you see the vibrant pink bitterroot flowers (Montana's state bloom) poking up from the ground near Mammoth Hot Springs. Every year, the already spectacular landscapes of the national park showcase a kaleidoscope of mesmerizing color, as the lupines, arnica, glacier lilies and springbeauties make their appearance. As American naturalist Enos Mills wrote in 1917, "The Yellowstone is a wild-flower garden. Wander where you will, you have the ever-new charm, the finishing touch, the ever-refreshing radiance of the wild flowers."
As spring turns to summer, yellow arrowleaf balsamroot lighten up the northern range, white phlox appear too pristine to be real, and red and orange paintbrush star in visitors' photographs. Fall is on the horizon once goldenrod and purple asters start to emerge on the scene.
Best Time for Wildflowers in Yellowstone National Park
The peak wildflower season in Yellowstone runs from June to mid-July.
Best Places to See Wildflowers in Yellowstone National Park
Don't hem yourself in to one or two locations. To see the widest breadth of color and species, visit several different habitats and environments within Yellowstone. For the most varieties at once, head to the northern range, including Mammoth and the Lamar Valley. Watch for evening primrose, which, as might be expected from the name, blossoms only at night. In Dunraven Pass, between Tower-Roosevelt and Canyon, look for lupine, paintbrush and fields of yellow arrowleaf balsamroot (which are a member of the sunflower family).
If time allows, hop out of your car and take a hike to get the best wildflower views (and photos!). The Garnet Hill Loop Trail, Trout Lake Trail, Beaver Ponds Trail and Mount Washburn Trail are all stunning. Combine wildflower viewing and up-close wildlife sightings on a Nat Hab Yellowstone safari.
Glacier National Park
In Glacier National Park, beargrass (which, ironically, bears do not like) and fields of glacier lilies dot the foreground, while mighty glaciers and rugged pewter spires reach for the skies. Subalpine landscapes are carpeted with nearly a thousand species of wildflower, including clematis, pinesaps, Indian pipes and purple asters. The growing season is short here, particularly in the alpine zone, and the flora competes against extreme winds, snow squalls (even in summer), cold nights and intense ultraviolet light. The wildflowers have adapted, however, with multiple biological strategies. They're small in order to lay low in strong winds. They have more reproductive parts than other features to facilitate propagation. They conserve moisture thanks to a waxy cuticle layer. Some have fine hairs that trap heat from the sun or are shaped like a drooping bell to capture the earth's heat. Only in the best possible conditions can the alpine plants flower, seed and spread to other areas. As a back-up, the flowers use vegetative reproduction, which means genetically identical plants grow from the roots.
More to look for while you're here: the butterwort, that consumes insects to gather nutrients; northern eyebright, three-flowered rush and false asphodel; and Bicknell's geranium and rock harlequin. You'll quickly see why naturalist John Muir said of Glacier in 1901, "Get off the tracks at Belton Station [now West Glacier] and in a few minutes you will find yourself in the midst of what you are sure to say is the best care-killing scenery on the continent." Check out the marvelous meadows, meltwater lakes, peaks, wildflowers and wildlife for yourself on our Nat Hab Glacier and Waterton nature tour.
Best Time for Wildflowers in Glacier National Park
For the best wildflower display, visit the park from late June to mid-July, when you'll see a plethora of prairie and alpine wildflowers.
Best Places to See Wildflowers in Glacier National Park
Lace up your boots and hit the trail in GNP to see wildflowers during their short peak season. Favorites include Preston Park, Highline Trail, Firebrand Pass, Iceberg Lake, Hidden Lake, Cobalt Lake, Medicine Grizzly Lake, Forest and Fire Nature Hike, Gunsight Lake and Upper Two Medicine Lake.
Denali National Park & Preserve
Brilliant pops of color make themselves known even before the snow is entirely thawed in Denali National Park & Preserve. Purple saxifrage, crowberry, horsetail, violets, arctic willow, cinquefoil and bluebells all start to flower as soon as there's a hint of spring in the air. June comes quickly and with it pink lousewort, blue lupine, tiny blue clusters of forget-me-nots (Alaska's state flower) and more. Take even a single hike and you may see up to 60 different species of wildflower. Fireweed's bright fuchsia sprouts up from the land, particularly in areas that have recently been ravaged by forest fire. Even in the shade, hardy Dane's dwarf gentian makes its appearance.
Most of Denali's wildflowers are forbs: herbaceous flowering plant species. Goldenrod, gentian, fireweed, forget-me-not, larkspur, lupine, monkshood, poppies and violets all fall into this dazzlingly diverse category. You'll find them in all habitats of the park, from windswept screen to aquatic ecosystems.
Best Time for Wildflowers in Denali National Park & Preserve
As in many of the parks mentioned here, the peak wildflower-viewing season is June through July. The gentle rains and the midnight sun of the summer encourage growth, resulting in a landscape of riotous color.
Best Places to See Wildflowers in Denali National Park & Preserve
Some of the best places to see wildflowers in Denali include the Eielson Alpine Trail, Primrose Ridge and Triple Lakes Trail. Plan to hit the Visitor Center to talk to the rangers about the best current wildflower (and wildlife) viewing. Typical suggestions include the Mountain Vista area, Savage River area and Wonder Lake area. Visit these areas and more on our Alaska Wildlife Safari.
Yosemite National Park
Yosemite takes the annual wildflower wonderment up a notch. Flower enthusiasts will find blossoms here most of the year, thanks to the 11,000-foot elevation range, which goes from 2,000 feet in the west to 13,000 in the east. The growing conditions are prime, and the location allows for a wide variety of species from the Pacific Coast, Great Basin, southern deserts and northern mountains. Compared to more than 400 wildflower species in Denali, Yosemite boasts 1,450 species. In fact, 25% of California's native plants are represented within the park.
Throughout Yosemite National Park, particularly during in-depth visits like our Nat Hab Yosemite Nature Adventure, you'll have opportunity to see monkeyflower varieties such as Kellogg's in the lowest park settings and Sukdorf's in the high country, the Yosemite woolly sunflower, lupines, paintbrushes, buckwheats and more.
Best Time for Wildflowers in Yosemite National Park
Practically any time of year is a great time to see wildflowers in Yosemite National Park, thanks to the breadth of species that survive here. During March, spring comes to the Merced River canyon, while by May you'll see a host of color spreading its way through the park.
Best Places to See Wildflowers in Yosemite National Park
In March, the Merced River canyon comes to life with tufted poppies, spider lupines, fiddlenecks, popcorn flowers, owl's clover and redbuds. Early summer brings shooting stars, showy milkweed, cow parsnip, western azalea, pine violets, evening primrose, seep-spring monkeyflower, Applegate's paintbrush, baby blue eyes, bird's eyes, larkspur, dogwood, goldenrod, Sierra lessingia, sneezeweed and woolly mule-ears. In sandier areas, look for pussy paws, which raise their flower stems in the morning and lower them in the evening. Favorite wildflower-viewing trails from March through May include Cook's Meadow Loop, Wawona Meadow Loop and Wapama Falls in Hetch Hetchy.
At higher elevations along Glacier Point Road, look for the snow plant that emerges from remaining snow. It doesn't have any green, because instead of photosynthesizing, it feeds off soil fungi. Sprouting up from the granite gravel, find mountain pride, spreading phlox, sulfur buckwheat, mouse-tail, mountain pennyroyal, sandwort, Sierra forget-me-nots and pretty face. Hike on the McGurk Meadow, Taft Point and Sentinel Dome trails for the best photo opportunities.
As summer winds on, head to Tuolumne Meadows and the Soda Springs and Parson Lodge, Lyell Canyon, Gaylor Lakes, Mono Pass, and Elizabeth Lake trails for an endless wildflower extravaganza.
Everglades National Park
We turn our attention south now, to Everglades National Park in Florida. Quite contrary to the hardy, alpine-adjusted flora that we see in Glacier or Denali, in this warm-weather locale, we find hundreds of species of flowers that bloom no matter the season. Wherever you are in the park, whatever time of year, there will be something beautiful on display, ranging from small to showy, to fragrant and unassuming, to pretty but poisonous. Pick up a flower identification guide at the visitor center before you head out.
Here, where manatees grin and the elusive Florida panther stalks, more than 700 plant species thrive. Look for the namesake trees and ancient live oak within the Big Cypress National Preserve and turn to the wet prairies for countless wildflowers. As you search, stay on the lookout for black bear, bobcat, white-tailed deer, Big Cypress fox, squirrels, nine-banded armadillos and coyotes, in addition to 120 resident and migratory bird species.
Best Time for Wildflowers in Everglades National Park
Visit this 2,358-square-mile park any time of year to see a variety of wildflowers and plant species thriving in the largest sawgrass prairie in North America, the largest mangrove forest in the Western hemisphere and landscapes ranging from tree islands to pine rocklands.
For the most prolific wildflower sightings, particularly orchids, visit during the spring and summer. Avoid the hottest, stickiest part of the day by waking early for morning hikes and bike rides, or venture out in the evening.
Best Places to See Wildflowers in Everglades National Park
Our Florida Keys nature safari takes you on a private boat tour to remote Keewaydin Island, kayaking through mangrove channels, through the Big Cypress National Preserve and the J.N. "Ding" Darling National Wildlife Refuge, into the Ten Thousand Islands National Wildlife Refuge and to Everglades, Biscayne and Dry Tortugas national parks. Not only will you have opportunity to see countless wildflowers, but you'll also likely see dolphins cavorting, great white herons soaring, white-tailed deer munching and alligators sunning.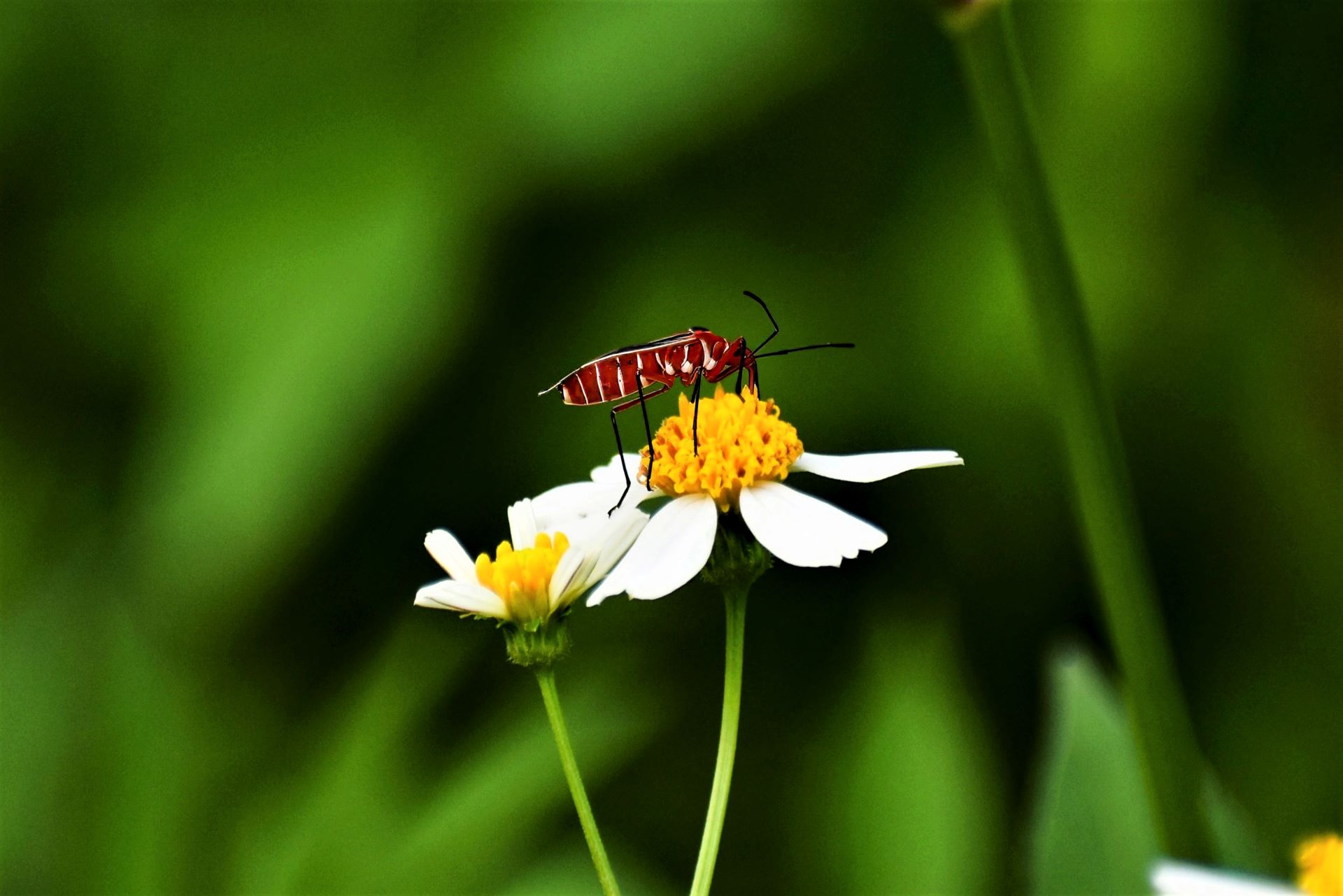 Tips for Taking Wildflower Photos
The captivating ruby red of a scarlet gilia. The tiny yellows petals of a slender cinquefoil. When it comes to photographing wildflowers, you'll want to capture both the expansive fields of color laid out before you, with dramatic alpine scenery in the background, as well as the intricate, delicate features that make each bloom so eye-catching.
To prepare for your trip and be best equipped to snap gorgeous wildflower photos, do a bit of research ahead of time. Check online to see when the peak wildflower-viewing times are predicted to be for that year. You can read trip reports on the hikes you plan to take so see what folks are saying in real time about the flowers that are blooming. Park rangers are another fantastic source of info. Read up on photo forums for best overlooks, locations and inspiration. This Outdoor Photographer article gives a great overview that will help get you started.
When it comes to those tiny features it's hard (or impossible) to see with the naked eye, you can use macro photography techniques, which takes something relatively ordinary and turns it into something extraordinary by making it large enough to appreciate the fine details, colors and textures. Read more about macro photography.
Saving the Wildflowers
Those wildflowers we take for granted in our national parks are reliant on pollinating insects—bees in particular—and most of us are aware that there is a crisis among these pollinators, likely due to our over-dependence on agricultural chemicals. That's not all: Air pollution, off-trail hiking, poaching, ground-level ozone pollution and other human-instigated threats face our gorgeous wildflower displays.
When you visit any of these wildflower-rich destinations with Natural Habitat Adventures, you can rest assured that we are offsetting carbon emissions on your trip (and on all of our departures). We understand that to protect these ecosystems and landscapes for future generations, we must put protective measures in place now. You may be curious to know how we offset carbon emissions. If you're interested in learning about the projects we support, take a look at our Carbon Offset Projects.
Whether it's the northern parks of Yellowstone, Glacier or Denali, the California favorite of Yosemite, or the southern charmer, the Everglades, may your spring and summer be filled with pops of purple, bursts of blue and gardens of gold!