While some might say that the true travel genre of books includes those "that record the experiences of an author touring a place," I find it worthwhile to add another component into my description of that category: environmentalism. After all, if the travels written about don't inspire you to cherish, conserve and protect a place, then perhaps that particular travel book hasn't really gotten down to the location's essence; that beating heart of the terrain that speaks to us.
Below, I've compiled a list (in alphabetical order—not in any sort of ranking) of 10 of my favorite nature-and-travel authors. I find that after I've finished reading any one of their volumes, I feel as though 1) I want to pack my suitcase and 2) take environmental action.
As the holidays approach, I hope you'll consider giving their works as gifts to others; and, if you aren't familiar with them yourself, be sure to get acquainted by indulging in some presents for yourself.
1) Rick Bass. A former-petroleum-geologist-turned-writer, Rick Bass became a strong advocate for northwest Montana's remote Yaak Valley when he moved there in 1987.
The first book of his that I read was Winter: Notes from Montana, published in 1991. In it, Bass and his friend Elizabeth go West to seek a secluded retreat to spend the winter, a place where he can write and she can paint. They discover the Yaak Valley and become caretakers of a defunct hunting lodge. The place—reachable only by a gravel-and-dirt road that requires four-wheel drive—has no electricity, no phone service and erratic radio reception. The nearest town is Libby, 40 miles away.
Rick Bass writes about their season in the wilderness; describing the blizzards, narrating the woodchopping, portraying the wildlife and characterizing the occasional social gatherings at the Dirty Shame Saloon. He depicts the physical and psychological hardships of wilderness living, and enlightens us about the sense of freedom and wildness of the valley's people.
Unfortunately, the Yaak Valley has been logged for its timber more than any other valley in the state. As this place slowly enters Rick Bass's soul and ours, he evolves into a champion for its protection.
A subsequent book, published in 2002, is titled The Roadless Yaak: Reflections and Observations About One of Our Last Great Wild Places. It describes the campaign to preserve the last of the Yaak's forested areas as wilderness.
I think Rick Bass's strength as a nonfiction author lies in his ability to show how a ground that one comes to love can transform a life, and I have no less than 20 of this author's books on my shelves.
2) Gretel Ehrlich. Ever since I read Gretel Ehrlich's 2003 book This Cold Heaven: Seven Seasons in Greenland, I dreamed about visiting Greenland. Like me, Ehrlich is obsessed by the dangerous beauty of a world that is defined by ice. In the book, she combines the story of her travels with history and cultural anthropology to reveal a Greenland that few of us could otherwise dive into or even imagine. Through reading Gretel Ehrlich's works, I learned that adventure travels aren't only to physical places; they can be into seasons, states of mind or different times.
Beyond my wildest dreams, I was fortunate enough to be able to travel to Greenland in 2013 and again in 2018. And all the efforts it took to get there started by my reading This Cold Heaven.
3) Don George. The former global travel editor for Lonely Planet Publications and the former editor-at-large and book review columnist for National Geographic Traveler magazine, Don George is, in my opinion, one of the best travel writers working today. His 2015 book, The Way of Wanderlust: The Best Travel Writing of Don George, includes 35 essays and stories that span 24 countries on six continents. There are tales about climbing Mount Kilimanjaro in Tanzania, falling in love in Greece, encountering whales in Mexico and making roof tiles in Peru.
When I first turned to nature-and-travel writing, Don George's articles inspired me. Many years later, I had the opportunity to spend a day with him in the field during a writing workshop, watching how he worked on location and how he engaged with a place and its people. It was a fascinating peek into the mind of a person who is truly in love with traveling the world and everyone he meets along the way.
But it's not only people who Don connects with. His telling of an encounter with a gray whale in Baja is an example:
As she [the whale] cruised under the bow of the Zodiac, where I was straining forward, she passed right under me. I arched and extended my arm and felt her cool, sleek cheek. I stroked it for a few seconds, and in that time, she looked straight into my eye, and I looked straight into hers.
And plunged into a pool of understanding and wisdom older and more far-reaching and of a different order than anything I'd encountered before. She knew, she knew things I could never know—about the age and evolution of the earth, about her vast underwater world. And in that instant, she communicated something that I can only convey as peace and understanding, and that surged through me as an all-knowing, and somehow pardoning, blessing.
Call it projection if you want, but I know what I felt.
And it flukes in the deep blue depths of my being, even now.
In recent years, I've had the opportunity to work with one of my writing heroes, Don George, creating several articles for various blogs under his charge. It was an honor, because Don is living proof that venturing out into the world is the surest way to fall in love with it.
4) Charles Kuralt. You all may think I've gone into the wayback machine with this pick. But I have uncovered no other writer yet who can find more joy in the commonplace and everyday routines of average people—and write about them in a more heart-touching style—than Charles Kuralt.
In 1967, when Charles Kuralt, a CBS correspondent, set out in a battered motor home to hit the back roads, he began sending in a type of travel story that had never been done before. These dispatches were not about places so much as about the people he met. He introduced us to auctioneers, boat builders, fishermen, prospectors, moonshiners and even the people of one town who invented their own language to beguile tourists. In his 1985 book On the Road with Charles Kuralt, you'll find some of the best of his pieces: essays from the long-running television series On the Road and Sunday Morning. Charles Kuralt demonstrates that no matter where you go, your adventures boil down to the people you meet.
5) William Least Heat-Moon. The 1982 book Blue Highways: A Journey into America by William Least Heat-Moon came out the year my first child was born. I put my copy on my nightstand, thinking I'd read a bit from it every evening.
Motherhood has a way of eating up time, however, and when my baby girl turned 20 years of age, that book was still next to my bed. By the time she turned 25, though, I had finally finished the book. But lack of time wasn't the only reason for the delay: Least Heat-Moon's turn of phrase is so well-crafted that after reading a few paragraphs, I'd have to put the book down for a few days to savor the words.
This now-classic, road-trip read—William Least Heat-Moon even wrote a book about writing the book!—confirms that true adventures are timeless.
6) Barry Lopez. The writings of environmentalist and journalist Barry Lopez have often been compared with those of Henry David Thoreau.
Barry Lopez is probably best known for his 2001 book Arctic Dreams—for which he received the National Book Award—but his other nonfiction works, such as About This Life and Of Wolves and Men, are just as captivating. His books, along with his magazine articles, reflect his travels to more than 70 countries and his deep immersions into other cultures.
It's one of his lesser touted books, however, that I'm particularly fond of: Home Ground: Language for an American Landscape, a 2006 publication that he edited and that I've mentioned in this column many times over the years. It's a unique dictionary: a compendium of the distinctly American vocabulary that people use to characterize this nation's landscapes. Forty-five writers were asked to craft more than 850 definitions for expressions such as gallery forest, looking-glass prairie, meander scar and quaking bog. Through these exquisite definitions, we learn about American character, American folklore, American geography and American history through place.
With Barry Lopez as a reference guide, I realized that how we feel about places is often given away in the terms we use to talk about them.
7) Robert Macfarlane. A British nature writer and literary critic, Robert Macfarlane is the author of two well-known books about landscape and nature: Mountains of the Mind (2003), which examines the development of our attitudes to mountains and how they fire our imaginations; and The Wild Places (2007), which explores the remaining wild places of England, Ireland, Scotland and Wales and our continuing need for wildness.
Robert Macfarlane is an accomplished "walker-writer," one who connects the places our feet can take us with the impacts those places can make in our heads and in our hearts.
8) Richard Nelson. American cultural anthropologist and writer Richard Nelson focused his work primarily on the indigenous cultures of Alaska and, more generally, the relationships between people and nature.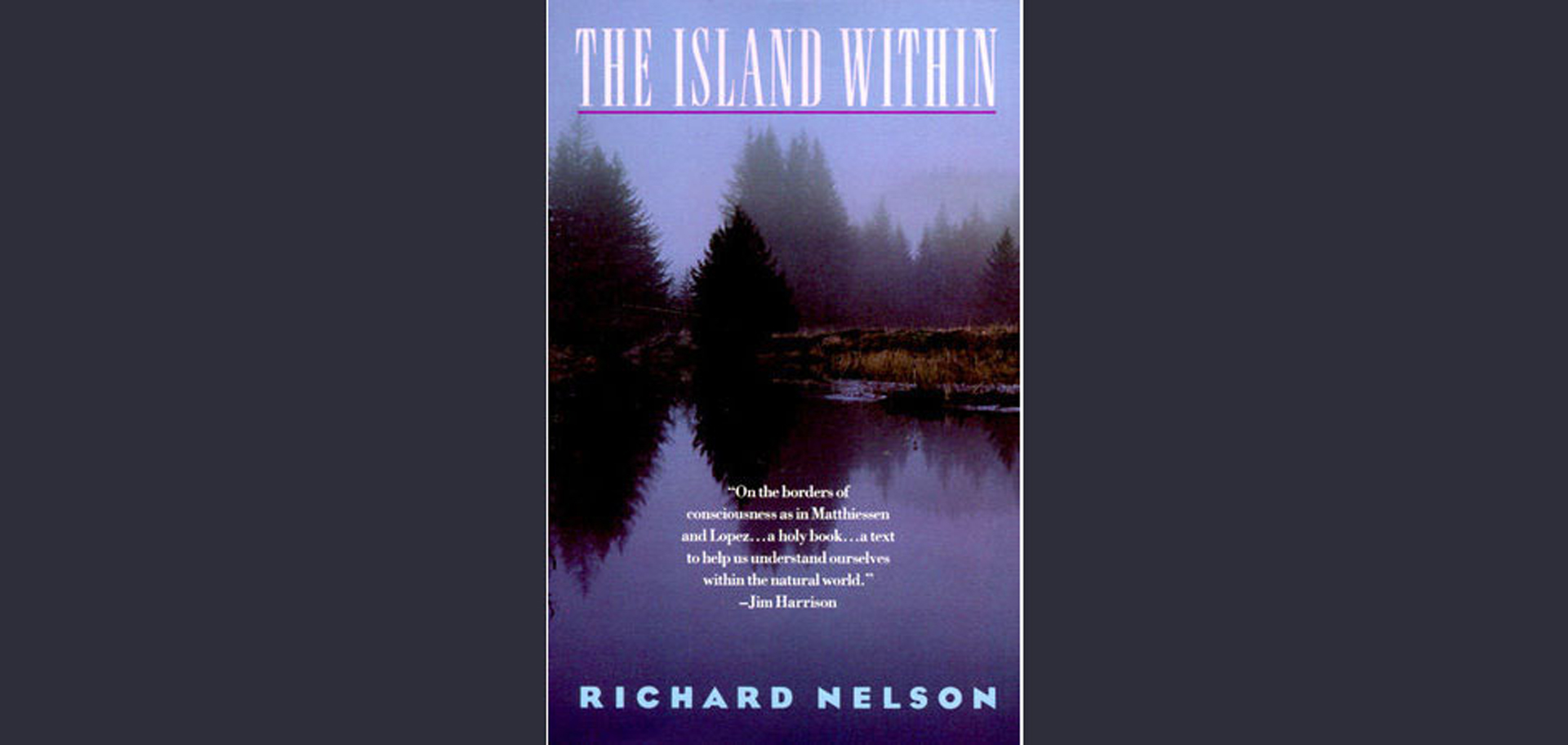 My favorite work of his is The Island Within (1989), an exploration of an unnamed island in the Pacific Northwest near his home. It recounts the author's self-sufficient existence there and his practice of respecting the wilderness, which he learns from Alaskan native peoples.
He also learns from his island; as he writes:
As time went by, I realized that the particular place I'd chosen was less important than the fact that I'd chosen a place and focused my life around it … What makes a place "special" is the way it buries itself inside the heart, not whether it's flat or rugged, rich or austere, wet or arid, … wild or tame. Every place, like every person is elevated by the love and respect shown toward it, and by the way in which its bounty is received.
Whether he's describing a beached whale, the remains of a clear-cut forest or his son—a boy "made of deer"—you feel that Richard Nelson is tangentially asking you to examine your own relationship with nature; to participate in it with reverence and a sense of wonder as he does. Richard Nelson illustrates that travels deep into nature can help you live a more thoughtful and authentic life after you return home.
9) Doug Peacock. Doug Peacock's 1996 book Grizzly Years: In Search of the American Wilderness was voted one of The 100 Best Adventure Books of All Time by National Geographic Adventure magazine. The author represents the old guard of environmental activism.
Drafted to serve two tours in Vietnam as a Green Beret medic, Doug Peacock witnessed the carnage of the 1968 Tet Offensive and "too many dead children." When he returned from the war, he found himself overcome with depression and existential nausea. Seeking a measure of spiritual salvation, he immersed himself in the wilderness. He became fascinated with the grizzlies he met and subsequently took a series of low-level jobs with the National Park Service so that he could devote the next 20 years to filming and studying bears.
Grizzly Years: In Search of the American Wilderness describes how Doug, alone and unarmed, traverses the rugged mountains of Montana and Wyoming tracking grizzly bears. While the book begins with us going along with Doug as he directly observes the bears' behavior—from denning habits, hunting strategies and mating patterns to methods of communication and social hierarchy—the story ends with a narrative about the breaking down of suspicion between human and bear in the wild.
Doug Peacock has vociferously criticized the modern environmental movement for being far too conciliatory and passive. He states that we fear what we don't know. And we hate what we fear. As he says in the short film Grizzly Country, "When you're down, when you're depressed, get outside and do something … It's the best cure I know for the metaphysical icky-poos."
10) Terry Tempest Williams. In her 2008 book Finding Beauty in a Broken World, Terry Tempest Williams somehow manages to seamlessly combine three widely disparate travel events into one meaningful experience. In Ravenna, Italy, she learns the ancient art of mosaic. In the American Southwest, she does a stint with researchers who are observing a prairie dog town. In a small village in Rwanda, she joins survivors from the 1994 genocide who are building a memorial from the rubble of war. What results is a quest for community in an era of physical and spiritual fragmentation.
I have been a passionate fan of Terry's ever since a Natural Habitat Adventures guide, in 2002, introduced me to a little book, published in 1998, titled Sacred Earth: Writers on Nature and Spirit. Excerpts from Terry's writings, along with those of other environmental authors, were included. But it was her prose that struck me like lightning.
Since then, I have met Terry in person on a couple of occasions. And, I'm proud to say that we've had some intimate exchanges that I will never forget.
Erosion: Essays of Undoing, Terry mentions that she had been criticized when Finding Beauty in a Broken World came out for linking the plight of Utah prairie dogs with the Rwandan genocide. But what you take away from Terry is that each adventure in your life isn't necessarily a self-contained event; in the end, it's about the connections you make between them.
Thankfully, it was difficult to narrow this list down to just 10 authors. There are easily 10 more that I could name. I'm appreciative that there are so many wonderful nature-and-travel writers out there whose works are waiting to be discovered and devoured—perhaps during this holiday season.
Who are your favorites? Let me know in the comment section, below.
Here's to finding your true places and natural habitats,
Candy