By Nat Hab Expedition Leader Eddy Savage 
Murren, Switzerland, is one of the hidden gems on our Wild Switzerland expedition. This tiny hamlet is tucked high on a ridge that is teeming with waterfalls hundreds of feet high and is only accessible by gondola from the Lauterbrunnen Valley below. With sheer cliffs and explosive waterfalls, the Lauterbrunnen Valley is a living postcard, where people have lived and farmed for hundreds of years. While we have plenty of adventures planned during our stay in Murren, one of my favorite things to do here is—you may have guessed it—go hiking. There are dozens of trails that start only a short walk from town. Perfectly situated, Murren is nestled between huge mountains and tucked away on a high ridge with creeks, trees, waterfalls, grazing livestock, wildlife, and more. I'd like to take you on a journey up and down some hills, through cattle pastures, and past some old-growth trees, all while keeping your eyes keenly placed on the famous mountains Eiger, Monch, and Jungfrau.
Surrounded by tall, snow-covered mountains, Murren sits at an elevation of 5,850 feet and is the highest village in the Canton of Bern. Even in the middle of August, there is a crispness to the morning air. We rise early, being sure to arrive first in line when the funicular opens. For those unfamiliar, a funicular is an ingenious technology that uses special cog-railway tracks to help the rail car climb a steep rail grade. The funicular is completely necessary for moving people and goods in most Swiss mountain villages and one of the many forms of transportation we take while exploring the country. Anyhow, this morning, we take the funicular up about 1,000 feet in elevation to the starting point of our hike. Our hike is around 2.5 to 3 hours long and suitably named given the scenery: "The Mountain View Trail."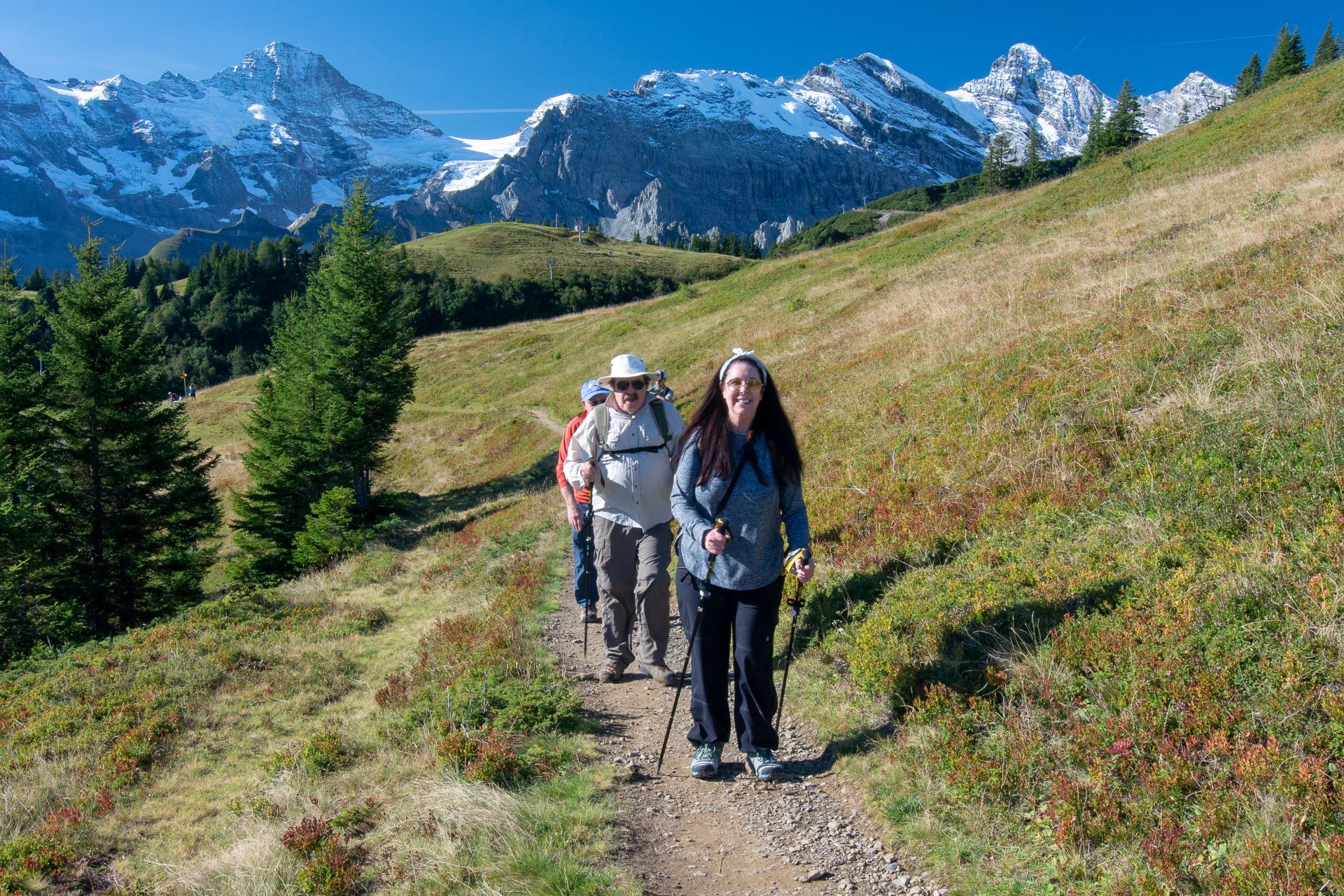 As we descend the first stretch of trail, we are immediately graced with the gentle rings of cowbells. Around a couple of twists in the trail, we come across a shepherd and their cattle. Using a gentle whistle and a thin stick, the shepherd expertly guides the cattle towards a new pasture as we walk through the middle of what feels like 50 to 100 shoulder-height cows. Surrounded by the gentle rings of their bells, the cattle remain calm and uninterested as we slowly moved through the herd. These cows must have seen more than their fair share of hikers as they do not seem to mind our curious eyes and cameras admiring their immaculate Swiss cowbells.
The hillsides around Murren have been grazed for over 1,000 years by domesticated animals. Cows, goats, and sheep all find their way through the hills feasting on the sub-alpine array of grasses and plants. The local management of these animals has been strict, ensuring that over-grazing does not occur and the natural beauty of the sub-alpine pastures is maintained. Patches of trees and shrubs and healthy meadows brimming with wildflowers cover the land. There is always a high chance we will encounter a shepherd and cattle or a shepherd and goats, or even livestock exploring on their own. When a herd of cattle is moving up the trail from you, the pings and rings of their bells help you keep a close sense of where to find the herd. Occasionally, you might be surprised by a single ring of a bell from a cow resting in the shade of a tree.
The Mountain View Trail provides near-constant views of the well-known mountains Eiger, Monch, and Jungfrau. They are the tallest of the Alps in the region, and on the south side of the peaks (out of sight) is the largest glaciated region in all of Switzerland. Every 5 minutes or so, the natural beauty of the area forces us to pause for a moment, breathe deeply and absorb the visuals. The three peaks dominate the view as Eiger stands at 13,025 feet, Monch at 13,474 feet, and Jungfrau at 13,642 feet. The rock face below the peaks, carved by successive ice ages, is dramatic in the shadow of the Eiger and is home to the famous ascent, "The North Face." The north side of Eiger climbs nearly 10,000 feet above the valley, and the famous "North Face" is a nearly vertical 5,900 feet tall facade of rock and ice—impressive from afar and exceptionally daunting to even the foremost expert climbers. Pulling our gaze back onto the trail, the possibility of spotting wildlife other than livestock is around every corner.
While livestock populations are high, the area around Murren still has quite a few wild animals to boast about. Home to healthy populations of hooved animals like red deer, chamois (goat-antelope), and alpine ibex (wild goat), there is always the chance we could spot wildlife along the trail or through our binoculars. The alpine slopes, such as the ones we can see beneath the Eiger, Monch and Jungfrau, would be excellent habitat for alpine Ibex, while the sub-alpine meadows we walk through are better suited for red deer or chamois. There is also always the possibility of spotting rare birds such as the recently re-introduced and near-threatened bearded vulture. These birds thrive in mountain environments, scavenging on carrion and breaking open the bones to eat bone marrow. Their wingspans, occasionally upwards of 10 feet, make them easy to spot if they are around. To see one is a highlight of any expedition.
We finish our hike by ambling down a steep grassy hill to a train station that provides supply and passenger access to the upper valley. This train will take us on a 15-minute ride back to the town of Murren, where we can enjoy a cold drink and a filling lunch of authentic Swiss cuisine. Hiking in this area is truly an experience of a lifetime. The vibrant hillsides, well-maintained trails, and extraordinary views make for a great afternoon. The Swiss aspects of the adventure, such as the near-constant ring of cowbells and your guide carrying a critical supply of Swiss chocolate for snacking, make a morning hike even more enjoyable. So, what are you waiting for? Tie up your boots, fill your water bottle, put on some sunscreen, and let's go for a hike through the living postcard that is Murren.
All photos © Eddy Savage.