When it comes to travel in the 21st century, "sustainable" is the buzzword. It's heartening to see savvy travelers researching tour operators' impacts on local communities and wildlife and generally being more curious about how their travel habits impact our world and the health of all its inhabitants.
But is all travel that is billed as sustainable and focused on conservation and low-impact tourism everything it's marketed to be? In some cases, no, which is why it's so vital to do your research about your chosen travel company. Thankfully, there is an increasing number of legitimate sustainable tourism opportunities around the world. With green practices, lowering of carbon emissions, local community support, and ecosystem and wildlife conservation practices, sustainability-minded travelers and the companies with which they travel can make a difference.
Where does one start when seeking a conservation-minded trip that will effect positive change through travel? Here at Nat Hab, our eyes are on Botswana, where 37% of the land is protected as a national park or wildlife management area. The country is a star student in the subject of sustainable tourism, and Nat Hab is proud to partner with local companies and individuals who have been leading the safari industry there for more than 30 years. Together, we have redefined the definition of a sustainable safari (like our flagship Secluded Botswana Safari) by focusing on the "4 Cs": commerce, conservation, community and culture. Let's take a closer look at wildlife conservation and sustainable tourism in Botswana and how it relates to your experiences in the heart of wildest Africa.
What Is Botswana's High-Value, Low-Volume Ecotourism Model?
Botswana's ecotourism goal aims to protect the country's natural treasures and African wildlife while allowing local communities to benefit from ecotourism (it's the second-highest source of income). This has translated into successful wildlife conservation programs and supported rural economic development.
The country was an early adopter of ecotourism policies and practices, establishing a National Ecotourism Strategy in 2002 that follows globally recognized sustainable tourism hallmarks. Efforts have included the creation of wildlife sanctuaries to thwart poaching practices; protecting the last large, free-roaming elephant herds; and working to save endangered species through programs such as Khama Rhino Sanctuary. The Thlokomela Wildlife Trust financially supports these efforts and partners with private-sector ecotourism companies, conservation NGOs and local communities.
Botswana's steadfast dedication to sustainable ecotourism at several levels emphasizes the importance of a healthy ecosystem and, further, the role that biodiversity plays within that system. Without the abundant wildlife that roams the Kalahari and expanses of grassland, the ecosystem would suffer—and as the circle of life revolves, a poor ecosystem adversely affects biodiversity. Despite being one of the most sparsely populated countries in Africa, the country's population is increasing, making it more important than ever to continue to protect its fragile ecosystems and iconic wildlife.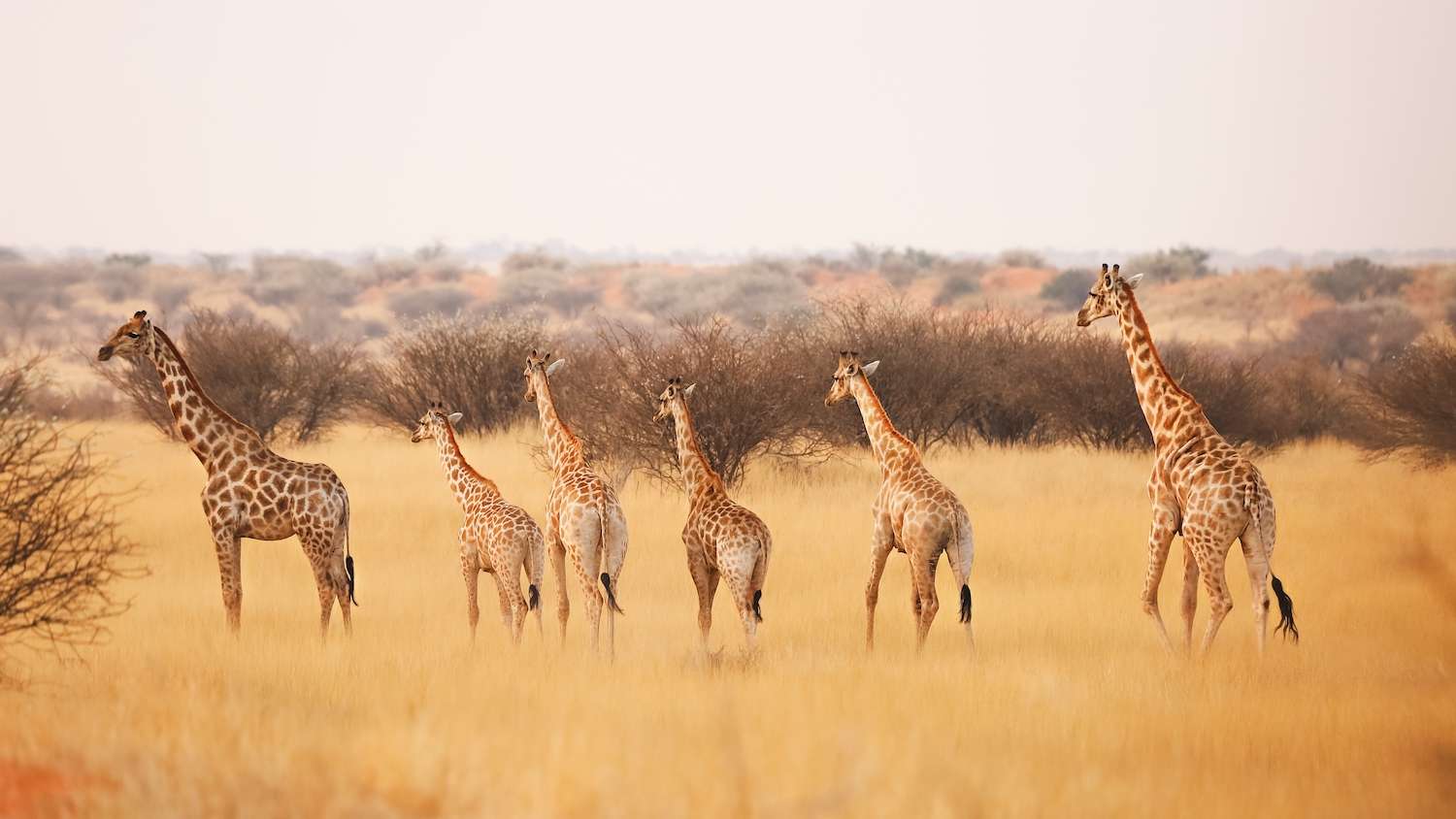 How Can I Support Botswana's Ecotourism Efforts?
Simply by being there, you can help create a positive influence toward an ever-brighter future for this African oasis. Venture into a land where human history reaches back more than 100,000 years. Meet early ancestors' descendants, the San (Bushman) and Khoi. Marvel at prehistoric rock paintings at Tsodilo Hills. And experience the rich biodiversity of the Kalahari and Okavango Delta, home to lions, leopards, giraffes, zebras, hippos and more.
More specifically, here are a few of the ways Nat Hab's presence in Botswana has made it possible for wildlife conservation and sustainable tourism efforts to thrive:
Anti-Poaching and Fisheries Management
Trips that visit the Jao Concession in the northwestern Okavango Delta have supported funding for a University of Botswana committee that will work to reduce the wildlife conflict between the local community and the concession area, with regard to poaching and over-fishing.
Maun Animal Welfare Society
Nat Hab partners with the Maun Animal Welfare Society, a non-profit organization created by local residents in response to the increase in unwanted, free-roaming, domestic dogs in the village. Nat Hab trips that visit Chitabe Camp support MAWS so that it can continue to promote the health and welfare of all animals in Maun and the surrounding communities through disease prevention, sterilization, vaccination and promotion of animal health through community-based education and training.
Botswana Predator Conservation Trust
Also benefitting from Nat Hab stays at Chitabe Camp, this longest-running large predator conservation research program in Botswana is focused on the continent's most endangered large carnivore, the African wild dog. The original research program expanded to become the Trust, which now oversees all larger predator conservation research, including lion, leopard, cheetah and hyena. Nat Hab guides also help with data collection when visiting the area.
Reducing Our Footprint at Linyanti Tented Camp
Sleep easy at Nat Hab's partner Botswana camps, constructed to the highest standards of sustainability, with an extremely low impact on the surrounding environment. As an example, Linyanti Tented Camp's hybrid system of generators, batteries, inverter and solar geysers ensures electricity and hot water at the camp. Wastewater is treated in an above-ground sewage plant before re-entering the natural environment.
Elephant-Human Conflict Research
Our stays at Duma Tau Camp address the topical issue of Botswana's large elephant population and the impact these herds may have on vegetation and other animals. Our local partners have facilitated and partially funded research projects that will assess the changes in vegetation on the Linyanti riverfront and the health of the woodland ecosystem. The results will allow extrapolation to all of Southern Africa, where elephant populations are undergoing significant conservation pressure.
KAZA and World Wildlife Fund
The Kavango Zambezi Transfrontier Conservation Area encompasses 109 million acres, including not only Botswana, but also Angola, Namibia, Zambia and Zimbabwe. Nat Hab and our conservation travel partner, World Wildlife Fund, support these efforts by ensuring that local communities benefit economically from wildlife conservation and habitat protection and the creation of world-class sustainable ecotourism experiences. With this support, KAZA can address issues that impact wildlife populations, from poaching to removing fences that inhibit wildlife movement to protecting upland forests.
Make a difference in Botswana when you choose a high-quality, in-depth, conservation-minded safari experience. Connect with the local community and appreciate the majestic landscapes and unfettered wildlife, coming away with a more positive outlook on the future of sustainable tourism.