The planet's largest land predator looked disarmingly cuddly. Ambling over the snowy tundra toward us, he was all big furry head and huge shaggy paws — which we got a close-up eyeful of as the polar bear stopped, rose up on his haunches and placed his big feet on the side of our vehicle to stare into my daughter's astonished face, a mere pane of glass between them.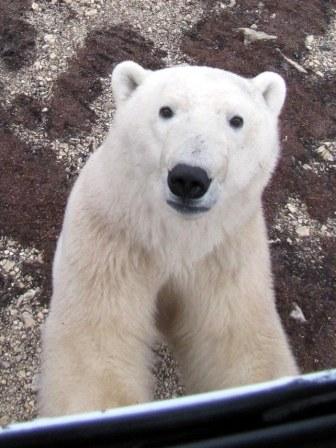 Sure, we'd seen polar bears in the zoo. But nothing prepared us for the sheer magic of watching the King of the Arctic in its natural realm. Mothers nurtured yearling cubs; young males romped and pushed each other over in spirited displays of play-fighting; lone bears wandered regally over the snow, white on white.
Our family had traveled to Churchill, Manitoba to spend three days among the bears as they congregated along the shore of Hudson Bay waiting for the ice to freeze and seal-hunting season to begin.
Observing bears is a thrill for wildlife lovers, as every long line of cars stopped to ogle a roadside black bear in Yellowstone attests. While Yellowstone may be most famous for bear watching, there are other sites that belong on every nature traveler's ursine pilgrimage list, offering opportunities to see and photograph wild bears often at close range.
Churchill is the polar bear capital of the world, with the greatest concentration of bears on view each October and November. Several hundred gather here along Hudson Bay each fall, and guests travel over the tundra to see them via specialized vehicles called Polar Rovers. Some lucky visitors may enjoy a stay at the Tundra Lodge, a unique rolling hotel that's placed each season in a remote location with high bear density, for a complete immersion in the polar bear's habitat.
View Churchill Polar Bear Trips >
Perhaps no place in the world is more renowned for bear watching than Brooks Falls in Katmai National Park. As many as 50 brown bears congregate along a mile-long stretch of the Brooks River during the annual salmon run, waiting atop the falls with gaping jaws as the fish leap into the air — and often right into the bears' mouths. Brooks Lodge is within walking distance of the falls, where visitors can safely view bears from raised platforms. For an even greater thrill, watch coastal grizzlies directly from the beach at Hallo Bay on a ship-based Alaska adventure into the Katmai wilderness.
Tucked between the Pacific Ocean and the Coast Range on Canada's west coast, the ancient Great Bear Rainforest is one of the largest tracts of temperate rainforest left on earth. Amidst its thousand-year-old cedars, 300-foot-tall Sitka spruce trees and rich salmon streams are plentiful grizzlies, black bears and the rare white Kermode, or Spirit, bear, which is an unusual variant of black bear found nowhere else in the world. One in 10 cubs in this region displays the recessive white coat that has earned this bear its aura of mystery in local Native legend. Most visitors see Spirit bears on small-boat coastal cruises, while the grizzlies of the Bella Coola Valley are typically observed from lodge-based tours including float trips on the Atnarko River.
Could any bear lover's travel itinerary be complete without a chance to see China's globally beloved pandas? As the icon for World Wildlife Fund, the endangered giant panda is a symbol for endangered species worldwide. Visitors can interact with the charismatic bears — and often cubs — at China's two giant panda breeding and research bases in Chengdu and Bifengxia in Sichuan province. And while it is very difficult to observe truly wild pandas in their native environs, Natural Habitat Adventures offers a rare opportunity to explore a remote Chinese nature reserve in the Minshan Mountains that's home to some 60 free-roaming giant pandas.
View Giant Panda Trips >
[cta id="18333″ vid="4″]
This article was originally published by Natural Habitat Adventures on The Huffington Post.
Photo Credits:
Polar Bear: Wendy Worrall Redal; Polar Bears Sparring: Michael Poliza; Grizzly Bears: Brad Josephs; Spirit Bear: Melissa Scott; Giant Panda: Brad Josephs