Yosemite National Park is California's crown jewel, a rich landscape of imposing granite cathedrals, towering sequoias and majestic waterfalls. Enjoy these photos from Expedition Leader Ant Bennet, taken while guiding An Insider's Journey into Yosemite this July.
Waterfalls and Lakes
Hiking opportunities are limitless at Yosemite. Nat Hab travelers will have many chances to explore intimate corners of the park by foot, away from the crowds and roads.
Travelers will rise before dawn to admire the sunrise over Mono Lake, which formed 760,000 years ago. Early morning rays illuminate the tufa towers—white limestone pinnacles that rise from the saline soda lake. Tufas are formed by calcium-rich freshwater springs bubbling up through carbonate-rich lake water. This process creates limestone deposits that slowly build up over time to create the pinnacles. Tufas form underwater, but they can be seen above water in Yosemite because the lake was much deeper during the last Ice Age. Because the lake has no outlet, Mono Lake has a high mineral content, and it is three times saltier than the ocean! Although no fish can inhabit these alkaline waters, brine shrimp are numerous, creating a rich feeding ground for 2 million migratory and nesting birds, including 85% of California gulls.
Travelers will enjoy a private canoe paddle on Mono Lake and learn about the fascinating geology of the area from their naturalist guide.
Yosemite's many scenic lakes offer tranquil moments of quiet reflection.
Wildflower Meadows
Twenty-five percent of California's native plants grow in Yosemite National Park, and 1,450 species of wildflowers bloom. In the summer months, wildflowers cover the landscape in rainbow hues and heavenly scents. In late June, shooting stars with nodding pink flowers grace the Tuolumne Meadows. Next, come purple asters, lavender-blue meadow penstemons, yellow cinquefoils, dark pink little elephant's heads, soft white pussytoes and chocolate-colored mousetails. Bumblebees are attracted to the blossoming purple-red flowers of subalpine paintbrush, which is unlike the many red-colored paintbrush species that attract hummingbirds. By late August, the subalpine meadows are filled with rich blue gentians and alpine goldenrod. In the forests grow mountain dandelions, red heather, larkspurs and Brewer's lupines. By rivers and streams emerge broad-leaved lupines, red columbine, fireweed, green gentian, yampah, dog violets and brilliant pink Lewis's monkeyflowers. At the park's highest elevations, some blossoms wait until early July to make an appearance, once the snow melts. This rich flora includes buttercup, alpine laurel, Sierra butterweed and steer's head, and later on, angelica, fireweed, alpine asters, swamp onion and knotweed. Up high on rock ledges grow stonecrop, phlox and wallflower along with white ranger's buttons, sunshine yellow mountain monkeyflowers and pale pink alpine paintbrush.
The subalpine Tuolomne Meadows can be seen from atop Lembert Dome. Take in the rugged peaks, expansive high-country meadows and the silvery ribbon of the Tuolumne River.
Sequoias
Nat Hab travelers enjoy a respite under the shade of towering sequoias. More than 500 of these ancient giants can be seen on a walk through Mariposa Grove, including the Tunnel Tree, which can be driven through, and the oldest tree in the grove at 3,000 years, the Grizzly Giant.
Half Dome, El Capitan & Granite Cathedrals
Travelers will admire many dramatic granite domes during their explorations of the national park.
Yosemite offers endless panoramas of forested mountainsides, wildflower meadows, gleaming lakes and sunlit peaks. Perhaps no view is more spectacular than that of the famed El Capitan, a 3,000-foot granite monolith rising from the valley floor.
The sheer granite crest of the legendary Half Dome rises more than 4,737 feet above the treeline. Photographers will have no shortage of opportunities for iconic nature shots!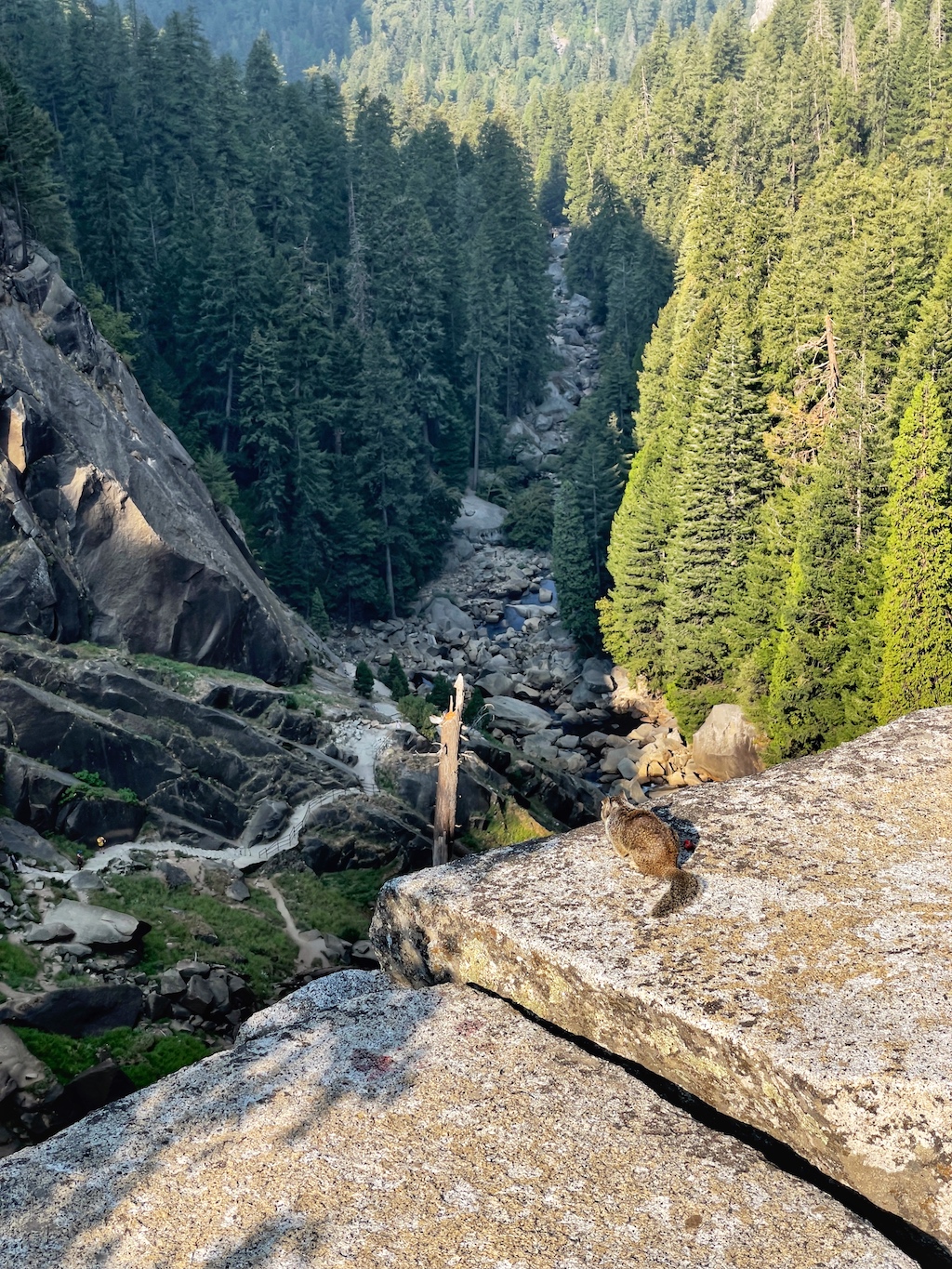 The yellow-bellied marmot is commonly seen sunning itself on rocks at high elevations. Also known as a rock chuck, this 5-pound mammal resembles (and is related to) the woodchuck. It is the largest rodent native to the Sierra Nevada mountain range.
Yosemite Lodging
After days of high-country adventures, travelers will rest and relax at Yosemite's acclaimed national park lodge, The Ahwahnee. This historic hotel boasts views of the park's landmarks: Yosemite Falls, Half Dome and Glacier Point.