How Slovenia, a tiny unspoiled mountainous country nestled between Croatia, Austria and Italy, has managed to stay relatively under the radar for nature tourism is a mystery. Three-fifths of this environmentally-friendly country is covered in forest, making it the third most forested country in all of Europe. Picturesque landscapes of limestone rock formations and impressive cave systems abound. There is one national park (Triglav) and 33 nature parks filled with glacial-carved lakes, pristine rivers, alpine meadows blanketed with wildflowers, and wildlife such as chamois, ibex and red deer. Slovenia is an ideal destination for those who want to plan a sustainable getaway filled with hiking, biking, kayaking, rafting and canoeing without the massive tourist crowds of some nearby European countries. Topping it all off? It even has a small section of coastline on the Adriatic Sea, and the country is said to have one vineyard per 70 residents. 
In 2016, Slovenia was named the first Certified Green destination in the world. The capital, Ljubljana, with a population of only 278,853 and home to an 11th-century castle straight out of a medieval tale, was named the European Green Capital in 2016, and has consistently been one of the top sustainable destinations in the world for years. It has a huge no-car zone in the center of town and its bike borrowing service helped it to be deemed one of the most bicycle-friendly cities in the world (14th in the world in 2019, according to the Copenhagenize Index). Many Ljubljana hotels and hostels are certified green accommodations, and if you add in the city's commitments to local foods, beautiful parks and methane city transport, it's obvious why its green scene is thriving. 
A remarkable 53.6% of Slovenia is protected land, a higher percentage than any nation on Earth except Venezuela. In the Environmental Performance Index (EPI), based on an assessment of the policies of 180 nations, Slovenia comes in with a hard-earned rating of 88.98—only four nations (Finland, Iceland, Sweden and Denmark) outrank it.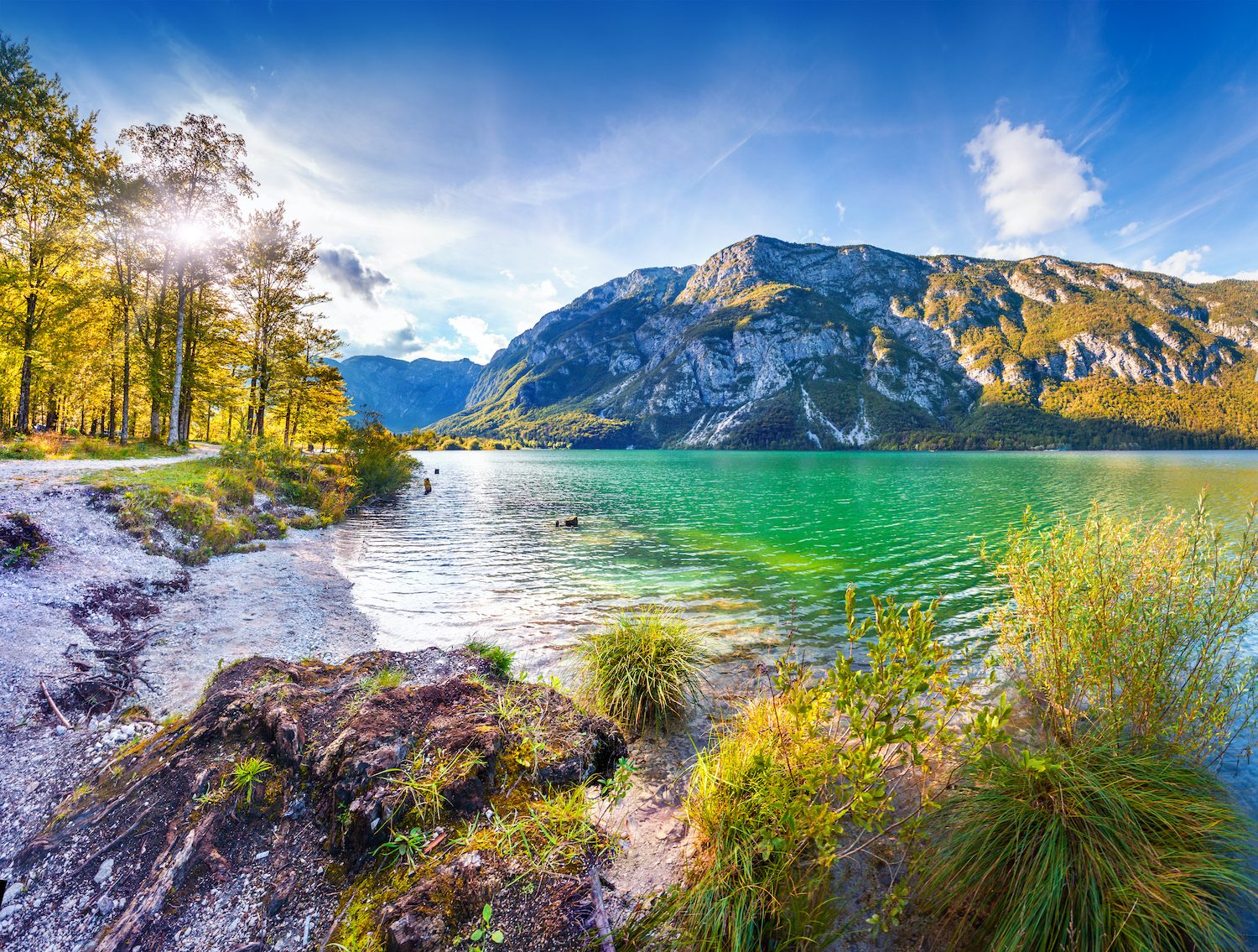 Slovenia has just started to establish its name as a travel destination, so while not as much travel info is available as for other more popular European countries, there are a few places that should definitely not be overlooked. One would be Lake Bohinj in the Triglav National Park, a centerpiece of the Julian Alps. Its shimmering blue waters are made for kayaking, with stunning views of snow-topped peaks all around. There is an excursion available for every level of fitness. Inside the park, there is a cable car to the top of the Vogel ski area that gives access to a hiking paradise with a birds-eye view of Lake Bohinj below. Active visitors can ascend the ski slopes further through a dwarf pine forest, reaching a panoramic plateau from which the summits of Mount Vogel and Mount Sija can be tackled. Less active visitors can kick back and bask in the postcard-perfect views of surrounding alpine meadows, keeping a close eye out for birds such as the Western Bonelli's warbler, white-throated dipper, red-backed shrike and gray-headed woodpecker. After a day adventuring in Triglav, those wanting to explore more can fuel up in a nearby village famous for its artisanal cheese production, which dates back to the 13th century. 
Beekeeping is a huge part of the Slovenia's national identity, and the health of this industry speaks volumes to the health of the country's natural environment. Hives and honey are deeply ingrained and revered in Slovenian culture—there are around 90,000 beekeepers in a population of just two million. It is even home to a distinct strain—Carniolan bees, which are prized for their non-aggressive nature. Not surprisingly, then, Slovenia is famed for the quality of its honey. Visitors should try local honey in many of its different forms, from pollen and honey liqueur to homemade gingerbread and potica, a traditional Slovenian nut roll pastry.
Not just home to happy bees, green Slovenia hosts some 22,000 animal and plant species, including a multitude of alpine wildlife such as golden eagles, trout, Alpine ibex, chamois and marmots. The country does have brown bear, grey wolf and lynx, but travelers are unlikely to spot these animals except on naturalist-guided tours. Most bears are found in the Kočevsko forests. Foxes, wild boar and deer are easier wildlife to find. Slovenia is also home to the endangered Proteus anguinus, a blind salamander known as "the human fish" because of its pinkish skin colour. It is found in one of Slovenia's four World Heritage Sites, Škocjan Caves, which is one of the largest underground canyons in the world—with four miles of underground passages, vast chambers, and waterfalls. Postojna Cave is the country's most visited attraction—its surreal formations of stalagmites and stalactites are unrivaled.
No trip to this sustainable country is complete without a visit to Lake Bled. Mild thermal springs naturally heat the water of this cobalt-blue lake to 26°C, so taking a comfortable dip well into autumn is possible—there are swimming areas on the northern and western shores. Lake Bled is famous for the tiny, tear-shaped island toward the western side of the lake that has the Church of the Assumption with its impressive 14th-century fresco fragments and a gold baroque altar. There is a "wishing bell" in the 15th-century church belfry that visitors can ring (it's probable that many wishes are to spend more time in the country!).
Less than two hours away from the quiet calm of Lake Bled is a region renowned for hiking and river sports. Bovec straddles the Soča River, famous for its adrenaline-fueled white water rafting, and in the area is Mount Triglav, the country's highest peak at 2,864 meters (many locals don't consider themselves true Slovenians until they scale it at least once).
To celebrate a mountain ascent or a river descent, adventurers can reward themselves with a trip to one of the country's three main wine regions: Primorska in the west, Posavska in the east, or Podravska in the northeast. Slovenia is home to the world's oldest grape vine, as winemaking in Slovenia existed since the time of the Celts and Illyrian tribes—long before the Romans introduced winemaking to France, Germany and Spain. The steep growing terrain in Slovenia encourages manual harvesting practices over mechanical.  The number of wines in such a small region, many of which are organic or biodynamic, can be overwhelming. Vinoteka Vipava is a good place to start, as it has a tourist information center and cellar with more than 100 wines to sample. 
Perhaps all the high-quality wine and constant access to jaw-dropping nature helps place Slovenia in seventh place out of 163 nations for the annual Peace Index, the world's leading measure of national peacefulness. While it is never possible to generalize an entire country,  Slovenians are often known for being remarkably broad-minded, especially tolerant and incredibly hospitable, so if you are thinking of planning a trip to Slovenia, one of the most environmentally-friendly countries on Earth, know that you will be warmly welcomed.