Like everything else about India, the country's immense network of protected areas offers a dizzying array of options for travelers. Deciding which to visit on an India safari is no simple task (as of last count, there are 104 national parks in India plus 560 wildlife sanctuaries and 214 community reserves), but thankfully, Aditya Panda is here to help. A passionate conservationist, wildlife photographer, and Expedition Leader with Natural Habitat Adventures, Panda has dedicated his life to exploring India's wild places—and to protecting them. 
We recently caught up with Panda for a wide-ranging discussion about his favorite national parks—including Kanha, Bandhavgarh and Kaziranga, all featured on Nat Hab's Grand India Wildlife Adventure—the wildlife you'll encounter there, and what it's like to track tigers in the wild (we promise: his riveting description will give you chills). Visit this Good Nature Travel blog again soon for the concluding installment of our two-part Q&A, where Panda discusses India's conservation successes (also immense), the imperative of ecotourism, and what we as travelers can do to help preserve India's wildlife sanctuaries—both on our travels and when we return home.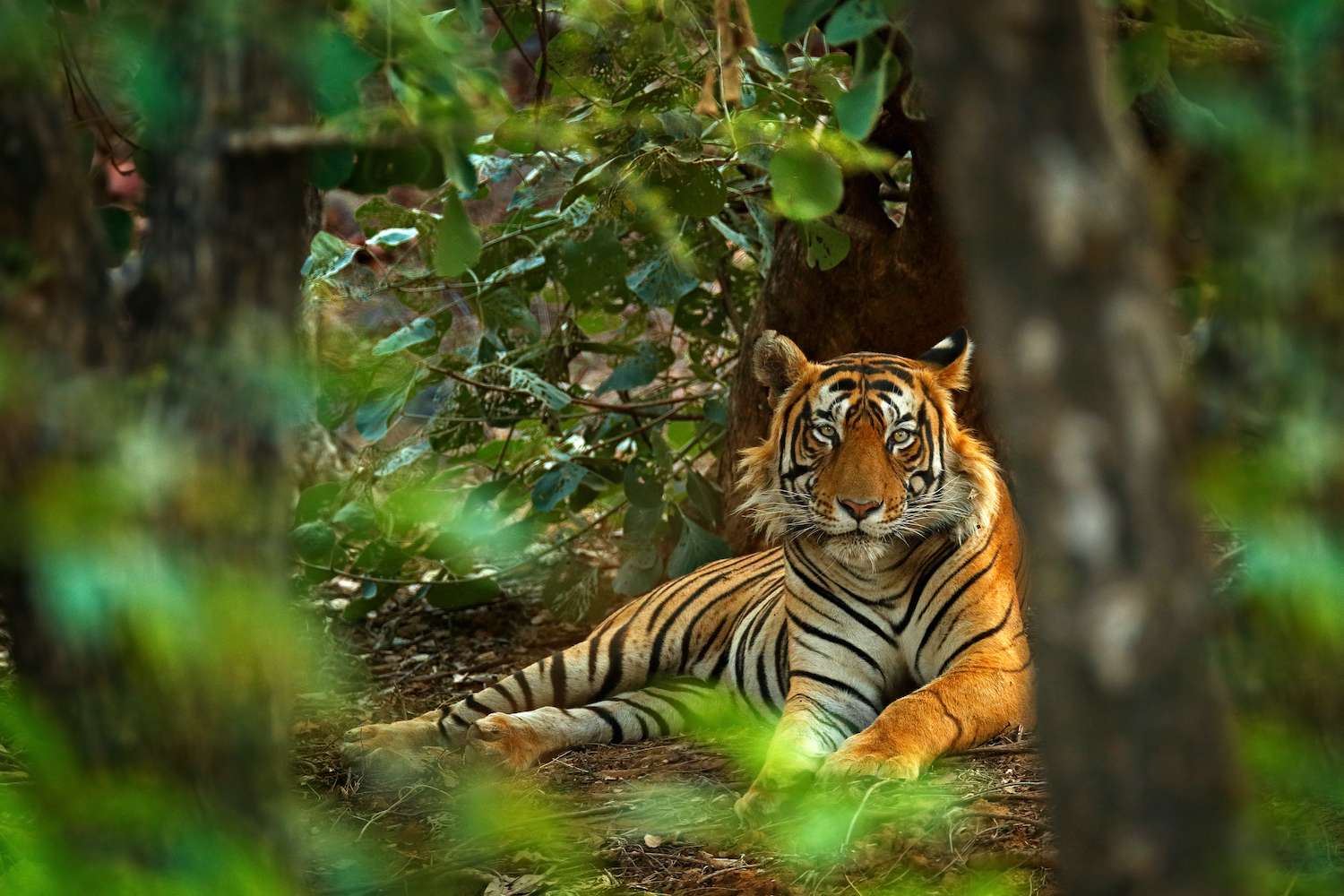 What are some of the top national parks in India?
Because of the tiger's glamour and magnetic draw, the top wildlife destinations in India largely include our tiger reserves. This includes Ranthambhore (popular in tourist brochures because of its proximity to the Delhi-Agra-Jaipur "Golden Triangle"), Kanha, Bandhavgarh, Kaziranga, Bandipur, Tadoba and Sundarbans. Beyond the tiger reserves there are the likes of Gir National Park (the only home of the Asiatic lion), Hemis National Park (home to the snow leopard), Singalila National Park (where you can look for the red panda), plus other must-sees such as Silent Valley National Park, Desert National Park in the Great Indian Desert, and Valley of Flowers National Park.
Do you have personal favorites?
My top two favorites have always been Kanha and Kaziranga. I also have a special place in my heart for Similipal, Pench and Corbett national parks, plus the protected areas of the Nilgiri mountains in southern India. I thoroughly enjoy visiting Bandhavgarh, Ranthambhore and Tadoba national parks for the amazing tiger photography opportunities they offer. There are just too many others to list! I visit as many of them as I can, then keep going back to the ones that have my heart. I could spend the rest of my lifetime visiting India's protected areas and still not be able to check each of them off my list!
What makes Kanha and Bandhavgarh so special?
The Central India Tiger Landscape is home to a third of India's tigers (about 1,000 tigers live here), and Kanha and Bandhavgarh offer some of the finest tiger viewing anywhere. I call Kanha the "Queen of Central India:" No reserve represents the best of the Central India Tiger Landscape and its conservation pedigree the way Kanha does (the park has always led the way in formulating management best practices that are then implemented in India's other tiger reserves). Certified Kanhaphiles like me genuinely believe that nowhere does the tiger look as stunning as it does in the sal forests of Kanha. 
Bandhavgarh has always been famous for its camera-friendly tigers. The park's game-drive zones have a very high density of tigers and they've always been comfortable around Jeeps, so it is by far one of the best places to watch and photograph these animals to your heart's content. What's more, Bandhavgarh has recently become home to more than 40 wild elephants. These herds, originally from eastern India, have been the first to "return" to central India in more than a century.
These central India nature parks are also great for leopards, sloth bears, wild dogs, jackals, gaur (Indian bison), majestic hard ground swamp deer (AKA barasingha) in Kanha, chinkara gazelles in Bandhavgarh, and blackbucks in Kanha. There is excellent birding to be had as well.
What makes Kaziranga in northeast India worth exploring?
Nowhere in Asia, indeed nowhere outside of East Africa, can one see such quantity and variety of large mammals. Kaziranga is home to the largest number of greater one-horned rhinoceros, Asian elephants, Asiatic water buffalo and eastern swamp deer. It also sustains the highest densities of tigers in the world, but is not the best place to see them (the tall, dense grasslands with their innumerable game trails mean that tigers don't always have to walk on roads). On the Grand India Wildlife Adventure, we have our fill of tigers at Kanha and Bandhavgarh and go to Kaziranga to slow the pace down and enjoy watching other megafauna. Kaziranga also shelters otters, hog deer and hog badgers, and has a rich primate diversity. This is one part of India where you can look for typical Southeast Asian species such as western hoolock gibbons, capped langurs and Assamese macaques.  
So, tigers aren't the only stars on an India safari. Still, we have to ask: What's it like tracking one in the wild?
The tiger is a larger-than-life animal. It is more than something mortal. Or at least it feels that way. So, tracking tigers is half the fun. Probably even more fun than seeing one. It is like tracking a ghost. When one enters the jungle, usually everything appears peaceful and quiet. There are deer grazing and monkeys moving around. It takes some imagination to truly believe that there are tigers roaming wild and free on the same patch of earth that you are on. This doubt can sometimes become consuming. Especially if one's first few game drives are what we call "dry" drives. Then, when you come across pugmarks (tracks), it is like someone injected you with a dose of adrenaline. The first physical sign of the mystical animal! 
What's it like to see a wild tiger for the first time?
If the jungle gods have graced you, a silhouette, much larger than you had thought, appears, parting the grass or materializing from behind boulders in a stream. It appears to float, noiselessly, as your eyes focus and your mind fathoms the reality of the situation. Then you might notice the orange and the stripes, then pick up the white patches on the animal's face. As it appears closer, you start seeing the details of that great head, indescribably handsome, confidence written all over it… those green eyes look both piercing and soothing at the same time. Jaws drop, gasps escape, cameras shoot. Then, the animal vanishes as abruptly as it appeared. One is left guessing whether it was real or an apparition. There is almost always silence in the aftermath of these tiger "emotion attacks." I've lost count of the number of guests I've seen in tears after a tiger experience. And let me tell you another secret: Every single tiger sighting is like your first. It's not an experience that grows old or tires you. It is addictive. It is meditative. It is life changing. You are always left wanting for more.
Chills, anyone? Visit our Good Nature Travel blog again soon to read more insights from Aditya Panda on national parks in India and what travelers like you can do to help ensure wild scenes like this will endure.