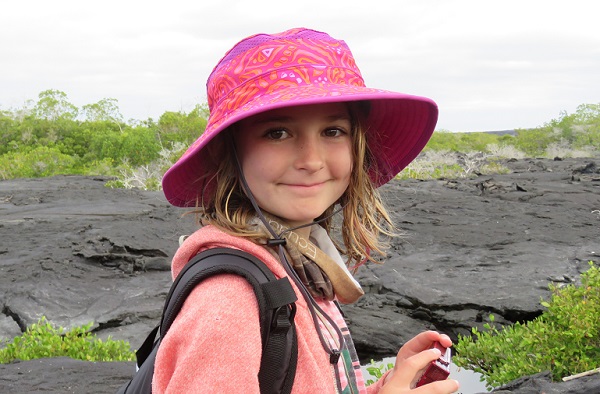 During my 18+ years at Natural Habitat Adventures, I've been fortunate—frankly, blessed—to travel the world as an emissary of the company. Whether in search of the next great trip, having the opportunity to share a scheduled journey with our fascinating travelers, or inevaluation of a tentative itinerary, I've always ended up in a beautiful wilderness area in a foreign land. This is my passion, and it's what first drew me to the travel industry many years ago.
I am adamant that my continued travels will never leave me jaded and that I'll always maintain my natural curiosity and desire to explore new, wild places. But never did I predict that my zest for exploration abroad would be redoubled with the chance to take my eldest daughter on her first family adventure to the Galapagos Islands.
On my third trip to the Galapagos, I assumed that I would enjoy some happy moments watching her interact with the friendly wildlife for the first time. But never did I foresee the sheer joy of watching her explore this natural environment in such a meaningful, tactile way. From learning to balance while walking on the moving ship, to trying new Ecuadorian foods, to jumping off the deck of the ship into the Pacific Ocean, to putting on a wetsuit for the first time to snorkel the azure waters…it was amazing to witness her experience everything.
As we continued to explore the Galapagos Islands, our shared adventure only got better. Wildlife is so approachable in the Galapagos; comical blue-footed boobies performing their mating dances, red-throated frigatebirds sitting on their nests, giant albatross knocking beaks with one another, and ponderous Galapagos tortoises slowly creeping through the deep grass right up to where we stood.
The snorkeling exposed her to playful sea lion pups darting around, colorful fish, and green sea turtles drifting about in the gentle surf. Golden rays gliding in phalanx and marine iguanas nibbling at underwater algae—all of it was more amazing to see for the third time, which I never thought possible, and that was because I could see it all afresh through my daughter's wide eyes.
I think I've created another adventure traveler, and I couldn't be more excited to find some other wilderness that will bring out the same level of immersion and amazement in her. If you haven't taken your children on a Family Galapagos Adventure, trust me—do it, and do it soon.
By Rick Guthke, Chief Operating Officer of Natural Habitat Headquarters. All photos © Rick Guthke.