Australia is known for its gorgeous sunny weather, stunning natural landscapes, high-quality wine and friendly, laid-back locals. It's also known for its unique flora and quirky animals (including bioluminescent glow worms!), many of which can only be spotted in Australia. From the well-known koala and ferocious Tasmanian devil to the lesser-known echidna, bandicoot, quoll and fairy penguin, endemic wildlife abounds. But in a country so large, where to even begin to see Australian animals in the wild?
While the northern and eastern coasts shine at hosting marine life, the south of Australia is where wildlife enthusiasts often go for spotting land-dwelling animals. Animals in national parks are more accustomed to human activity, so they may be easier to spot. Flinders Chase National Park on Kangaroo Island, Twelve Apostles & Port Campbell National Park on Cape Otway, and Mole Creek Karst, Cradle Mountain–Lake St. Clair, Freycinet and Maria Island National Parks in Tasmania are some of the prime places to see native Australian animals. For the most successful wildlife viewing experience, make sure to book a small-group trip that maximizes outings around sunrise and sunset. Lower light means fewer crowds of tourists and also draws out marsupials like possums, wallabies and kangaroos when they are most active.  
Adelaide, picturesquely nestled between the Mount Lofty Ranges and Gulf St. Vincent, is the gateway to many South Australia adventures. Being separate from the mainland and with over one-third of its area protected for conservation, Kangaroo Island has one of the highest densities of wildlife in Australia.  Perhaps not surprising based on the island name, there are a lot of kangaroos, and sometimes they can even be spotted on the beach mingling with southern/long-nosed fur seals and Australian sea lions. Kangaroo Island also has one of the largest koala populations in the country. Tammar wallabies, short-beaked echidnas and southern brown bandicoots abound here as well. Wallabies and bandicoots, being crepuscular animals, are generally active here at dusk, while echidnas can be more active during the day.  The beaches, headlands and wetlands are home to a huge variety of wading bird species, from plovers, sandpipers, oystercatchers and godwits pacing along the ocean shore to black swans, Australian pelicans and spoonbills lining the edges of lagoons. Some rare birds, like the Cape Barren goose, call this place home, but unfortunately its only endemic species, the Kangaroo Island emu, has become extinct. 
Great Otway National Park is another hub for wildlife viewing. Southwest of Melbourne, it stretches along the world-famous Great Ocean Road with its dramatic coastal cliffs, encompassing a temperate rainforest filled with eucalyptus trees and giant tree ferns. Kangaroos and koalas are common here, as are emus, but there is a better chance of spotting them in the surrounding countryside and open agricultural fields than in the dense forests of the national park. At night, you may see possums in the trees or even a spotted quoll, which is a small carnivorous marsupial the size of a cat. To find the quirky and lovable platypus, it's best to take a dawn and dusk canoe tour. You can often see fur seals and whales just from walking the coastline. Birdwatchers will be excited to hear that this is where the satin bowerbird can be spotted. These interesting and crafty birds make a stick display structure and famously decorate it with blue objects to attract a mate. Along with abundant parrots and cockatoos, the splendid fairy wren and iconic laughing kookaburra also call Great Otway home. And to complete the magic, as dusk falls, patches of rain forest are lit up as thousands of bioluminescent glow worms put on their nightly display.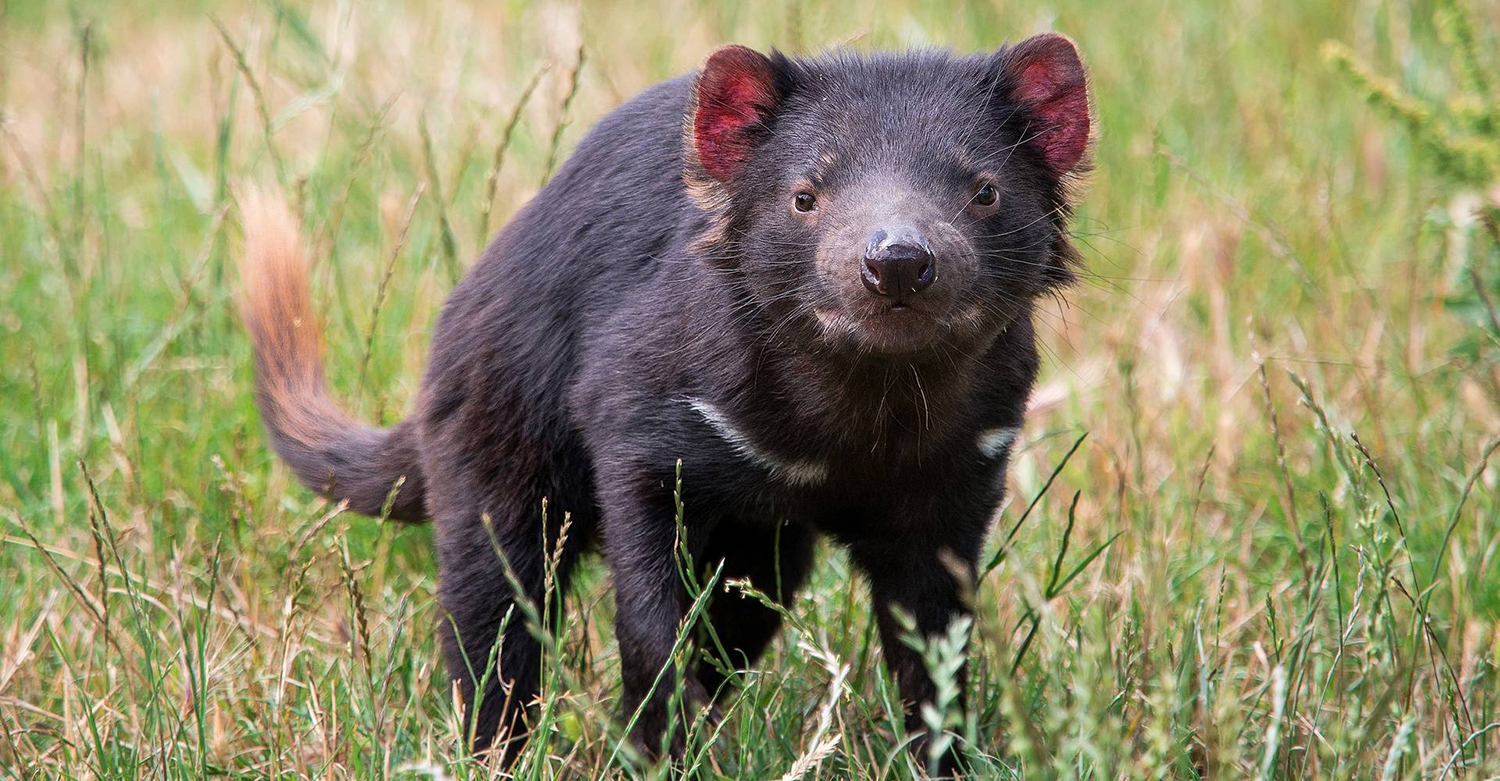 No Australian wildlife tour is complete without spending time in the island state of Tasmania. Located 150 miles south across the Bass Strait, the interior of this island covers more than 26,000 square miles, 42% of which is protected as national parks and UNESCO World Heritage Sites.  The top wildlife to spot here are the Tasmanian devil, wallaby, pademelon (a smaller wallaby-like creature) and wombat. Resembling giant koalas but adapted to digging extensive burrows in which they form their home, wombats were once widespread throughout much of Australia. However, their range has been much reduced, and Tasmania is one of the few places they can easily be spotted in the wild.
Some of the best places to spot wombats and other wildlife in Tasmania are in Cradle Mountain National Park, set in the rugged mountains of the Central Highlands region. With grassy, windswept plateaus, mountain streams and lakes, and extensive beech forests, the landscape is more reminiscent of Patagonia than the classical image of the hot Australian desert or tropics. The area has numerous hiking trails, including the world-famous 50-mile Oberland Track that connects Ronny Creek to Lake St. Clair.
Tasmania is also home to Freycinet National Park, famous for its stunning granite monoliths and Wineglass Bay, one of the world's most picturesque beaches. This is a standout place for bird viewing. Ocean birds to see here include albatross, terns, gannets, petrals, ospreys and white-bellied sea eagles. Adorably small and blue-tinged fairy penguins waddle from the sea to their nests in the evening. The national park also has wetlands with wading birds such as ducks, herons and black swans. Nearby Maria Island National Park hosts 11 of the 12 species of endemic Tasmanian birds and plentiful wading and migratory species, including the rare Cape Barren goose.
Along with the iconic Australian animals that everyone wants to get a photo of, there are a host of less-famous creatures to become acquainted with, from the ubiquitous, piebald Australian magpie to the diminutive sugar glider. And while there is a chance you may encounter a tiger snake slithering through the bushes or a redback spider living below a rocky overhang, not bothering these creatures and being respectful and aware in their environment will ensure your experience with these fascinating creatures is nothing but positive.