By Jess Signet

I had dreamed about a trip to the Galapagos long before my feet ever touched down on the island soil. A long time ago, I had a pen pal, Michael, from Ecuador whose monthly letters were my windows to a world outside my own. While Michael was endlessly fascinated with the 1990's culture that was my everyday, I was more enthralled with his school break jaunts to Darwin and Wolf islands to see sharks, sea lions and more fish than one person can imagine. My jealousy of his life, and his about mine, led to a switcharoo not too long ago, and I finally got to put pictures to his words (and he finally got to see what Disney World was like). It seemed like a fair trade to him, but if you ask me, I was the winner!
Home to some of the world's most diverse flora and fauna, the Galapagos Islands offer an intimate immersion in nature like nowhere else on Earth. Part of the magic of the Galapagos is that there is virtually no Internet access or cellular service throughout the islands, which is a welcome rarity in our constantly connected lives. I strongly recommend "unplugging" while in the Galapagos; however, there are some useful travel apps worth checking out before your trip to help you prepare for your travels. Here are some favorite apps I used to get ready for my Galapagos adventure and one I loved for sharing my Galapagos memories with friends when I returned from my trip.
1. DuoLingo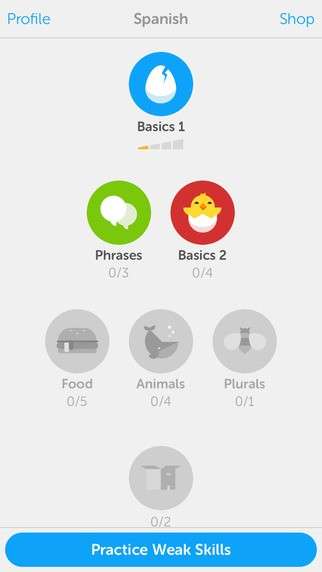 There's never a downside to learning the local language before heading to a new destination, and it will make your experience so much better if you and the locals can understand each other. Don't leave anything up to chance, and get 
Duolingo
 to help show you the ropes before you set sail. You can practice on the plane, learn new phrases, or just get the basics down in small segments. You're more likely not to be overwhelmed, and you'll get the linguistic knowledge all the same. 
Bon voyage
!
2. TripIt
TripIt
 is golden for taking the hassle out of your traveling. Beyond just getting all your boarding passes, tickets and bookings into one place, you won't spend as much time trying to check in. Instead, get out of the long check-in lines, and get to the real part of your vacation, or at least to figuring out something to do on that long layover. Using your email and a master list, TripIt goes through your Galapagos itinerary without all the time-consuming compiling, which makes it not only a great organizer, but also a time-saver. Plus, it's good for more than airplanes; it works for sightseeing tickets as well!
3. PackPoint
Just last month in Berlin, I left half of my stuff sitting on the windowsill of the hostel. You know what this means? I packed too fast, didn't go through my lists and forgot some of my favorite possessions (headphone, antique rings and the latest Murakami). If only there was an app for that. 
PackPoint
 became my go-to packing list after I had this same situation happen to me one too many times. The best part about it isn't just the list-making (because hopefully you're taking fresh socks and a toothbrush with you everywhere). It makes specific suggestions based on your Galapagos activities, so you'll be more prepared ahead of time. With technology on your side, you won't be caught unaware in any situation—even on the Galapagos Islands—where nature reigns supreme.
4. Galapagos Islands Offline Travel Guide
Since you won't have wifi or cell service in the Galapagos, you're going to need something that will work off-grid with you, and the 
Galapagos Islands Offline Travel Guide app
 is a great solution. With both offline and online settings, you can access Galapagos maps, attractions, pictures and more. And it's specific to the Galapagos, so you don't have to worry about wading through an app full of information on a bunch of different destinations. This one is already fine-tuned to your purpose!
5. Galapagos Wildlife Pocket Guide
This helpful 
pocket guide
 introduces you to the stunning species found in the Galapagos. Packed with colorful illustrations and interesting facts, the booklet highlights more than 140 intriguing animals, from the Sally Lightfoot crab to the blue-footed booby. You'll use this handy reference again and again as you sail throughout the islands, uncovering diverse ecosystems and encountering endemic wildlife. While this one isn't an app, a Kindle version can be downloaded to your smartphone or tablet to peruse during downtime on the ship!
6. BirdsEye Galapagos
From famous finches to diving penguins, the Galapagos Islands reveal a bounty of birdlife. If you're eager to seek out feathered friends while in this archipelago, 
BirdsEye Gálapagos
 is the app for you! Browse through photographs, listen to bird songs and learn fascinating avian facts to help you identify the different bird species you'll see on your wildlife adventure. You'll also learn about the conservation efforts being carried out to preserve this unique World Heritage Site.
7. Sky Guide
Whether you're stargazing on the ship or in the tranquility of NHA's private Tortoise Camp, 
Sky Guide
 helps you find flickering stars, shooting comets, whirling planets and coruscating constellations. As you look upon these celestial bodies, hold your smartphone or tablet up to the night sky and watch as the stars align, revealing their patterns and identities. See what astronomical events are happening in your location, from meteor showers and planetary alignments to supermoons and solar eclipses. Look up stargazing weather conditions and peruse a light pollution map. You'll also want to check out the Featured section, which is a rich collection of curated content with news, stories, tips and more. Wherever you are in the world, this remarkable app allows you to discover the mysteries held in the sky above.
8. Postagram
While postcards are certainly a great collectible, on occasion they can be rather run-of-the-mill. I think there's no better way to personalize a small souvenir for friends and family than with a picture and a personalized note, and there's no better way to do it than with 
Postagram
. Starting with 99 cents per card, you can send postcards straight from your phone with a delivery time of one to three weeks, depending on where you are and where you're sending the card.
So download these great travel apps now to help prepare you for your Galapagos trip, and then get to what you're really there for: a bit of well-deserved and extensive exploring!

About the Author: Jess Signet is a blogger and writer who is proud to combine her two greatest loves: travel and technology. She is also interested in new technologies and the latest smartphone releases.