While it is one of the best times to see wild polar bears, late November isn't exactly prime time for viewing the northern lights in Churchill, Manitoba. Skies are supposed to be stormy. Winter is rolling in while ice forms on Hudson Bay. Polar bears shimmy in the snowflakes and prepare to head out for a season marked by plentiful seal breakfasts.
That's the way it's always been.
But then 2016 turned out to be the planet's warmest year ever. Churchill had no sea ice in November. This is a big concern when it comes to polar bear conservation, since they rely on sea ice to hunt, rest and breed. Climate change is the biggest threat to polar bears' survival. And news of record heat is big enough to shake up a lot of things—the atmosphere over this little slice of the subarctic being no exception.
I harbored secret prayers for a lucky night in Churchill, but I knew better than to count on seeing gashes of green and purple shimmering light dripping out of the sky. After all, the magic of spending time on the tundra with mighty polar bears felt like enough good fortune to last a lifetime.
Weather along Hudson Bay was consistent with the rest of the planet in November. It was cold enough to be grateful for a thick down coat, but not frigid enough for sea ice. Watery current lapped the shores at the bay's intertidal zone—a human border between Manitoba and Nunavut, the polar bears' demarcation between summer fast and winter feast.
The Churchill polar bears were plentiful. They paced the piles of blood-red kelp, picking and choosing their morsels. Polar bears' main source of food is seals; kelp becomes an alternative when the main dish is scarce. They stepped over lichen-covered rocks, wound through the willows, and traversed windswept layers of ice whipped into spikey crystals on the frozen ground. Sometimes they wandered right up to our Polar Rover. As they waited for the Hudson Bay to freeze, we watched for two solid days in absolute wonder.
"Pinch me," I kept thinking. That's a polar bear underneath my nose. There's another bear settling in for a snooze in front of our tire. A mama bear and cub are frolicking in the seaweed nearby. Four fierce males are snoozing peacefully within a paw's length of one another. This one just stood up for a stretch. That one gave us the equivalent of a tween's eye roll, then a yawn.

It was awesome to look down the throat of a polar bear, to study a fierce claw close-up. Every single encounter was a thrill.
And then we set out on the night rover. "Pinch me," I thought, pulling out at sunset with a polar bear flanking our right side and November's full moon rising in the sky.
By the time we parked for the loveliest of dinner parties, cozy within the tundra's vast embrace, stars twinkled in a dark sky trying its darndest to defy the moon's blinding light. The night was clear and my hope surged. I bundled up and headed outside on the back deck of the Polar Rover.
There they were. Northern lights—so many pretty lights. Faint at first, then surging across the sky. Green aurora borealis reflected off the dusky night sea, bending and twisting, shape-shifting from moment to moment. Oozing color out of the darkness. No question why ancient cultures looked to these spectacles for spirituality and mystical stories. Magic came to life in front of my eyes. A deep sense of wonder trailed the animated light show for hours.
"Pinch me," I thought, unable to tear away my eyes, or my heart, from such a mystical encounter.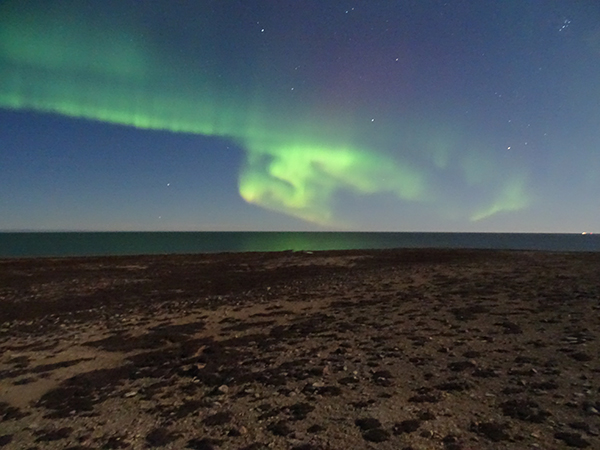 By Natural Habitat Adventures Writer & Editor Jennie Lay