I'm sure by now you've heard the news that so many of us have eagerly waited for—Canada will open its borders to vaccinated Americans on August 9th. We join in celebration with the community of Churchill, Manitoba, as we look forward to welcoming travelers back for our upcoming polar bear season. Since 1989, Natural Habitat Adventures has been running trips to see the world's largest concentration of polar bears gather along Hudson Bay, waiting for the ice to form and seal-hunting season to begin.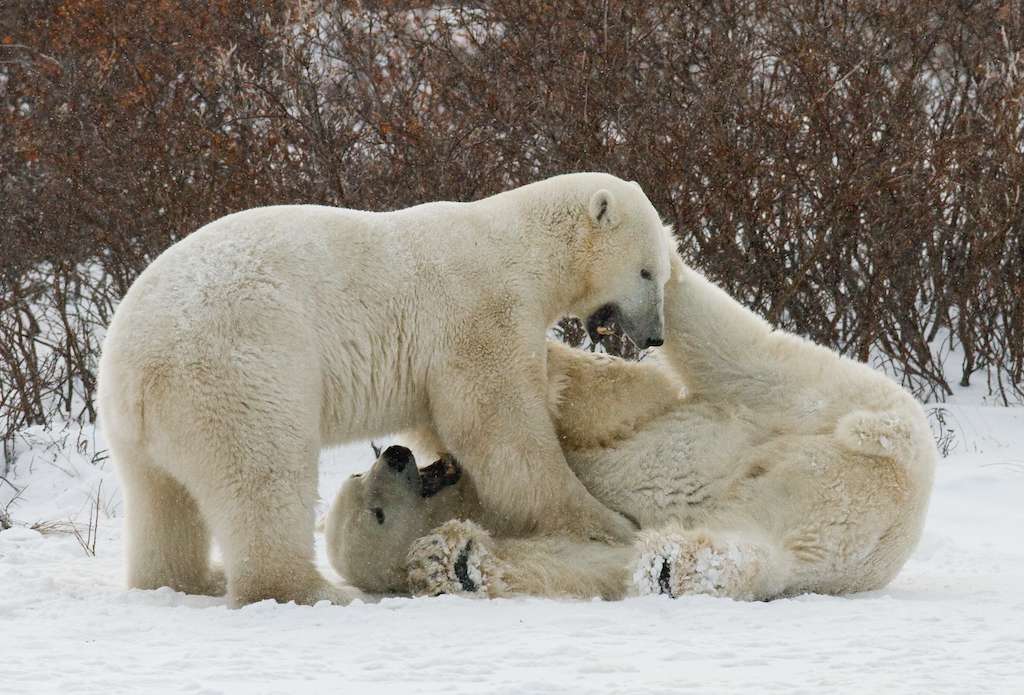 The past year and a half have been difficult for all. Many of us sought solace in nature, perhaps gaining a new sense of appreciation for our garden or a nearby nature reserve. Now, a nature excursion unlike any other awaits in the Canadian subarctic—polar bears roam the tundra, and our naturalist guides are ready to share their in-depth knowledge of these great white bears and other northern animals that inhabit this frozen realm. We head onto the tundra in custom Polar Rovers, which get you closer to polar bears, in greater comfort and safety, than anywhere else on Earth. With a window for all and plenty of room for photography, you will be a close-up witness to bear behaviors and get a fascinating peek into these wild animal's natural habitat. Travelers can also stay at the Tundra Lodge for an intimate look at polar bear daily life. This rolling hotel with private compartments is placed in a remote area of high bear density with indoor viewing areas and outdoor platforms that bears can walk underneath for unparalleled wildlife encounters!
Travelers will have ample opportunities to learn about Churchill's regional ecology and hear firsthand about the heritage and traditions of the Inuit, Metis and Dene. All trips also include a dog sled ride through the boreal forest at the hands of a local musher. An optional helicopter excursion takes travelers on a thrilling ride over Wapusk National Park to see these majestic bears from a new angle, wandering the icy expanse below.
As one of the first companies to run polar bear adventures in Churchill, Natural Habitat Adventures has become intimately acquainted with the community and region. Operating environmentally conscious polar bear trips helps sustain Churchill's economy while using travel as a means to raise our guests' awareness and inspire their own conservation efforts. As the exclusive conservation travel partner of World Wildlife Fund, we engage with initiatives that increase our understanding of polar bear behavior and the effects of diminishing sea ice on the entire ecosystem.
With Canada opening to international visitors, we have a select few spaces remaining on our polar bear expeditions this fall! So join us for a small-group adventure aimed at preserving one of the planet's most incredible creatures. The bears are waiting, and we can't wait to welcome you back.