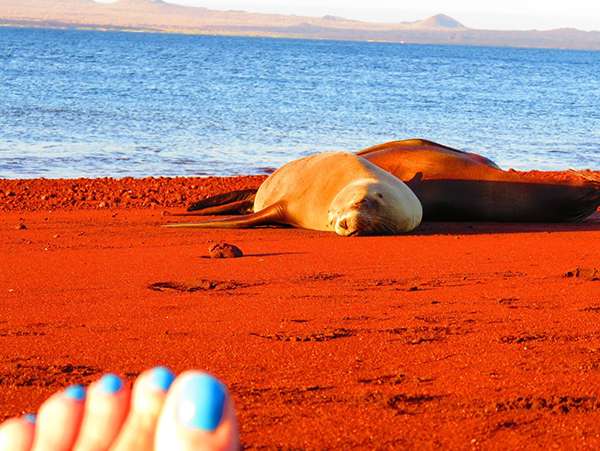 The Galapagos is one of my favorite places on the planet! I am very fortunate, I know, to have been able to visit these islands more than once.
When you travel somewhere new, of course you have expectations of what it will be like. During my first Galapagos Islands tour, I found myself blown away by the captivating natural beauty, abundant wildlife, beautiful people and rich history. This first visit was thrilling and filled my senses in all ways. Each island offers something unique in its geological and ecological history, and sometimes you will not even see a particular wild animal, bird or vegetation on any other island. There is some Galapagos wildlife (such as sea lions) that you'll see almost everywhere, but I still marveled at each encounter.
My most recent Galapagos nature adventure was remarkable for me because, even though I knew what to expect and had seen some of it before, it still blew me away. I took way too many photos of everything, as if I were seeing it for the first time. But I actually was seeing it all for the first time—I have no two photos that are the same. The people I met, the navigation through the islands—all new. I'm also positive it wasn't the same blue-footed booby, sea lion, sea turtle, tortoise, great albatross, frigate bird, land iguana, marine iguana, Galapagos penguin or pink flamingo that I had seen and photographed before!
This trip, however, I purposefully took time to do something I had not done before. I let myself truly be present. To "feel" the islands and the unspoiled beaches. To sit in the sand, close my eyes, put down my camera, be alone, breathe deeply and just be. To meditate. To listen, smell, taste, and simply connect to the energy, letting the Galapagos Islands feed my soul.
To surrender to this remarkable, extraordinary place on earth is a gift that I will carry with me the rest of my life. The Galapagos Islands experience truly touches me with a great sense of peace. Life is so busy, I feel that this peace on the beaches came home with me, and when I look at my photos, I can tap right back in to those sensations.
This guest post was written by Nat Hab Adventure Gear & Pre-Trip Services Coordinator Suzanne Kiser. All photos © Suzanne Kiser