My involvement in the film The Great Bear Stakeout, which depicts the Grizzly's struggle for survival in the wilderness of the Alaska Peninsula, is thus far, one of my career highlights.
I actually don't appear in this film that much, as I was mostly behind the scenes rigging up remote cameras, tracking wolves and missing bear characters, and of course guiding Natural Habitat Expeditions, but it was a true honor to be involved in such an amazing film, and work with the best bear experts, such as Chris Morgan and Buck Wilde, and the world's top wildlife filmmakers.
What makes this film truly unique, is the use of remote cameras, such as Gopros, to see the world of Grizzlies super-close, and when no humans are watching.  This was my one of my major roles in the filming, as I worked with Tom Hooker (you gotta check out his site by clicking his name!!!!), who is quickly becoming one of the top specialists in remote camera wildlife cinematography. What an amazing film, what an amazing animal. I hope this film can help build appreciation for bears, and encourage conservation of their habitat.
Here is an incredible clip, called "A Grizzly Ate My GoPro!" that I filmed with a GoPro camera that placed on a rock next to a river! The first bear to appear is an older mother, and the second is her 3 year old cub. The bear only gently mouthed the camera, and didn't even put a dent in it! Obviously the card was fine, and I actually used the camera many more times. I filmed this clip while I guiding a Natural Habitat Trip, but the BBC used it in the show. Anyway, check it out!!!

Here is a tour of our camp, and some explanation of how we stayed safe with the bears.
Last September was very stormy. Here is some footage during the worst storm of the season.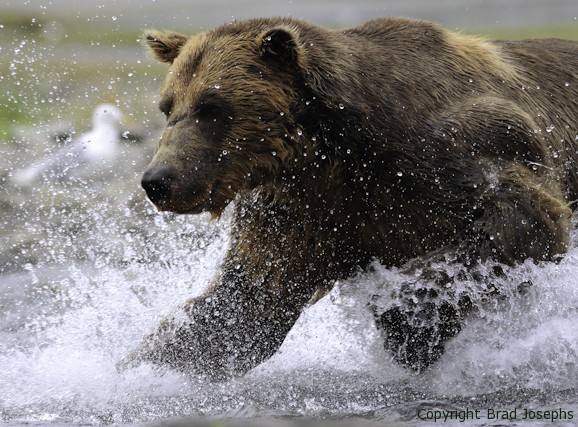 The BBC version of this film, which wasn't cut down to make room for commercials, is available to view on youtube (see below).
I would like to say that even in remote regions of Southwestern Alaska, these bears could face serious threats from human development.  In my opinion, the proposed Pebble Mine, on the Alaska Peninsula, is the greatest threat of all.  Click here to learn more about this potentially devastating project.
Here's to Bears!!!