More and more adventurous travelers are beginning to discover Greenland, one of the most isolated and breathtaking places on planet Earth. The giant island's vast Arctic landscape provides endless adventure opportunities for those who come looking for it.
1. Whale Watching with Icebergs
Greenland is the one of the premier destinations for animal-lovers to see whales up close. Off of the coast of Greenland's "Arctic Riviera," known for its mild summer climate, pods of whales can be seen feeding throughout Greenland's marvelous iceberg-filled fjords. Humpback, fin and minke whales are among some of the species that are spotted in the area.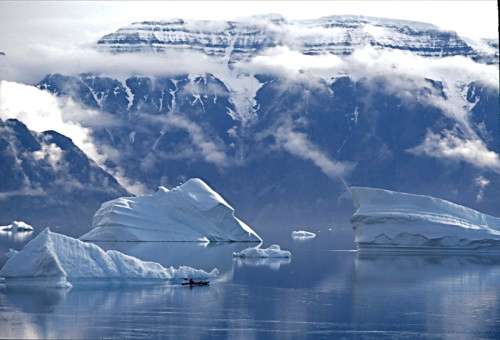 There are various ways to see whales and other wildlife species, including salmon, trout, and even seals. While in the birthplace of kayaking, adventure-seekers choose to explore Greenland's vast fjords by way of sea kayak, allowing for the closest interactions with Greenland's environment and wildlife. Kayaking enables visitors to paddle within feet of whales as they take in the beautiful landscapes of Greenland's glacier-covered peaks and coastal fjords.
2. Witnessing the Northern Lights
Greenland is one of the best places on earth to see the Northern Lights. Also called the Aurora Borealis, the Northern Lights are a majestic natural phenomenon that should be at the top of everybody's bucket list. The Northern Lights appear as the night sky glows bright with brilliant neon illuminations.
3. Exploring the Greenland Ice Sheet
Greenland's giant ice sheet, second in size only to Antarctica, is one of the final remnants of the last ice age. The ice sheet is 1,500 miles long, covers 80 percent of the island of Greenland, and can be up to a mile deep at its thickest points! Coating mountain ranges and spilling into Greenland's icy fjords, the ice sheet is of incomparable beauty.
The 10,000-year-old edge of the Greenland ice sheet is best seen via zodiac excursions, which allow visitors to view the effects of global climate change as melting glaciers calve massive icebergs into the sea.
Visitors craving an even closer look at the Greenland ice sheet can trek along mountainsides and wander across glaciers that wind down from the ice sheet itself. This provides the opportunity for wildlife-lovers to see Arctic fox, hare, eiders, loons and even peregrine falcons in their natural habitat. The quaint village of Tinit provides an amazing vantage point of the Greenland ice sheet, and is home to about 125 hardy natives surviving on subsistence diets.
4. Experiencing Ancient Inuit Culture
Greenland is home to an intriguing ancient culture that still exists today. The Greenlandic Inuit people had no contact with the outside world until the early 20th century, thereby creating a distinct and resilient culture.
Tiny museums throughout Greenland give an interesting peek into Greenland's culture and history. As the island's glaciers have preserved artifacts, landmarks, and even fully intact human mummies from the 4,500-year-old culture, visitors are able to discover the human history of the giant island.
Today, visitors are still able to experience a vibrant and enduring Inuit culture that has coexisted in harmony with nature for thousands of years. The Inuit lifestyle continues to revolve around hunting and fishing in this stunning yet uncompromising environment.
Many of Greenland's natives are open to sharing their culture with visitors. In small towns such as Tasiilaq, natives will demonstrate how their hardy lifestyle has empowered them to survive in such a harsh Arctic climate. These cultural interactions are just the cherry on top of an incredible journey to Greenland!