It's during the early daylight hours when Glacier National Park's Many Glacier Valley is at its finest. The dramatic peaks of the Lewis Mountain Range take on a warm glow, while the waters of Lake Josephine glisten and shine with the rising fog of a fresh morning dew. Occasionally a moose wanders down a nearby trail, and a mama black bear and her cubs frolic in the fast-flowing creek just west of Lake Sherburne. At the Many Glacier Hotel, where I worked a summer waiting tables in its Ptarmigan Dining Room, the views are even more spectacular—with the triangular-shaped Grinnell Point rising above the waters of Swiftcurrent Lake like the perfect postcard image. There's nothing quite like living in the middle of this "Switzerland of North America," especially its Many Glacier Valley—one of this national park's most impressive and awe-inspiring spots. 
Tucked away on Glacier's eastern side, about 12 miles into the park itself, the Many Glacier Valley is a stunning display of sparkling lakes, gushing waterfalls, rising mountains and alpine meadows that are often brimming with wildflowers like purple lupine and red-and-yellow gaillardia. The area is home to at least a dozen trailheads, ranging from a 4.2 mile round-trip meander to Red Rock Falls to a 12-mile out-and-back trek to Cracker Lake, a turquoise alpine wonder that often attracts moose and marmots, as well as grizzlies that chow down at berry patches along the trail. "Many" (the valley's shortened nickname) is also the site of one of the park's most iconic—though quickly disappearing—glaciers, along with several lodgings options, including the Many Glacier Hotel, the crowning jewel of the park's railway-built hotels. 
While the valley is typically open for visitors from early June to mid-September, it's worth bedding down here for at least a few nights to take in all that the area has in store. Thankfully, Nat Hab's 9-day Glacier & Waterton: An International Treasure brings participants into the heart of Many Glacier, and includes a stay at its storied hotel. 
If you plan to do a little exploring on your own, here are my favorite highlights of the Many Glacier Valley—a place that I called home for an entire season. 
The Many Glacier Hotel 
The once-prominent Great Northern Railway built about a dozen lodging properties in and around Glacier National Park during the early 20th century, and the Many Glacier Hotel was among its finest. This five-story, Swiss chalet-style property perched on the shores of Swiftcurrent Lake in a remote part of the park opened in-completion in 1917, and still stands as a testament to the railway and the national park system. It's both the largest and grandest of Glacier's lodgings and remains its showpiece. While partially renovated in 2016, visitors still won't find televisions or air-conditioning in any of 200+ guestrooms, and the lodgings historic appeal—including its rustic architecture—remains intact. 
These days, the hotel is buzzing with both lodgers and day-trippers who gather around its massive lobby fireplace to warm their boots and pour over trail maps, or dine on rainbow trout and bison burgers in the lakeside dining room. The Glacier Park Boat Company offers scenic cruises along the valley's Swiftcurrent and Josephine lakes that live from the hotel, while other local activities include horseback riding adventures along Many's dense forest trails and Red Bus tours aboard one of Glacier's 33 original "jammer" buses. These open-air vehicles have been navigating the park's roadways—including the legendary 55-mile-long Going-to-the-Sun Road—since 1936. 
Swiftcurrent Motor Inn 
A mile down from the hotel sits the Swiftcurrent Motor Inn, a simple lodging that the Glacier Park Hotel Company built in 1935 to accommodate an increasing number of auto travelers, and offer a more budget-friendly alternative to hikers. The property consists of both motel-style rooms and a series of rustic, stand-alone cabins. There's also a neighboring campground, as well as a fully-stocked camp store and a restaurant serving up pepperoni pizzas and sub sandwiches: foods that taste absolutely incredible after a day on the trails. 
Grinnell Glacier and Grinnell Glacier Trail 
There are only about 25 official glaciers remaining today in Glacier National Park: a drastic reduction from the 80 glaciers that existed here in 1850. In fact, all the park's glaciers are expected to melt within this century, including the valley's Grinnell Glacier. The glacier is named for George Bird Grinnell, a naturalist, conservationist, and explorer who made frequent visits to the region in late 1800s, and staunchly advocated the government to turn the area into a national park (which finally occurred in 1910). It's one of the park's most famous glaciers, and in fact has become a poster-child for climate change. 
Thanks to a series of photographs dating back to the mid-19th century, people can see Grinnell's recent shrinkage firsthand. In 1850, the glacier measured 710 acres: the size of approximately 538 football fields. This acreage included a nearby glacier called the Salamander Glacier, which at the time was attached to Grinnell. However, between 1966 and 2005, Grinnell shrunk by nearly 40 percent. An increase in greenhouse gas emissions has played a huge part in its reduction.  
What now remains of the glacier sits above 6,510-feet on the north flank of the park's Mount Gould, and is one of the park's only glaciers that can be easily reached on foot. The Grinnell Glacier Trail is an 11.2-mile out-and-back trail beginning at Swiftcurrent Lake. For a shorter trek, the Glacier Park Boat Company offers boat rides to and from the head of Lake Josephine, which can reduce the overall hike up to four miles.
Although relatively challenging, the Grinnell Glacier hike offers some spectacular scenery, including stunning mountain vistas and a trailside waterfall, as well as a high chance of spotting grizzlies (remember to make noise and let them know you're coming!).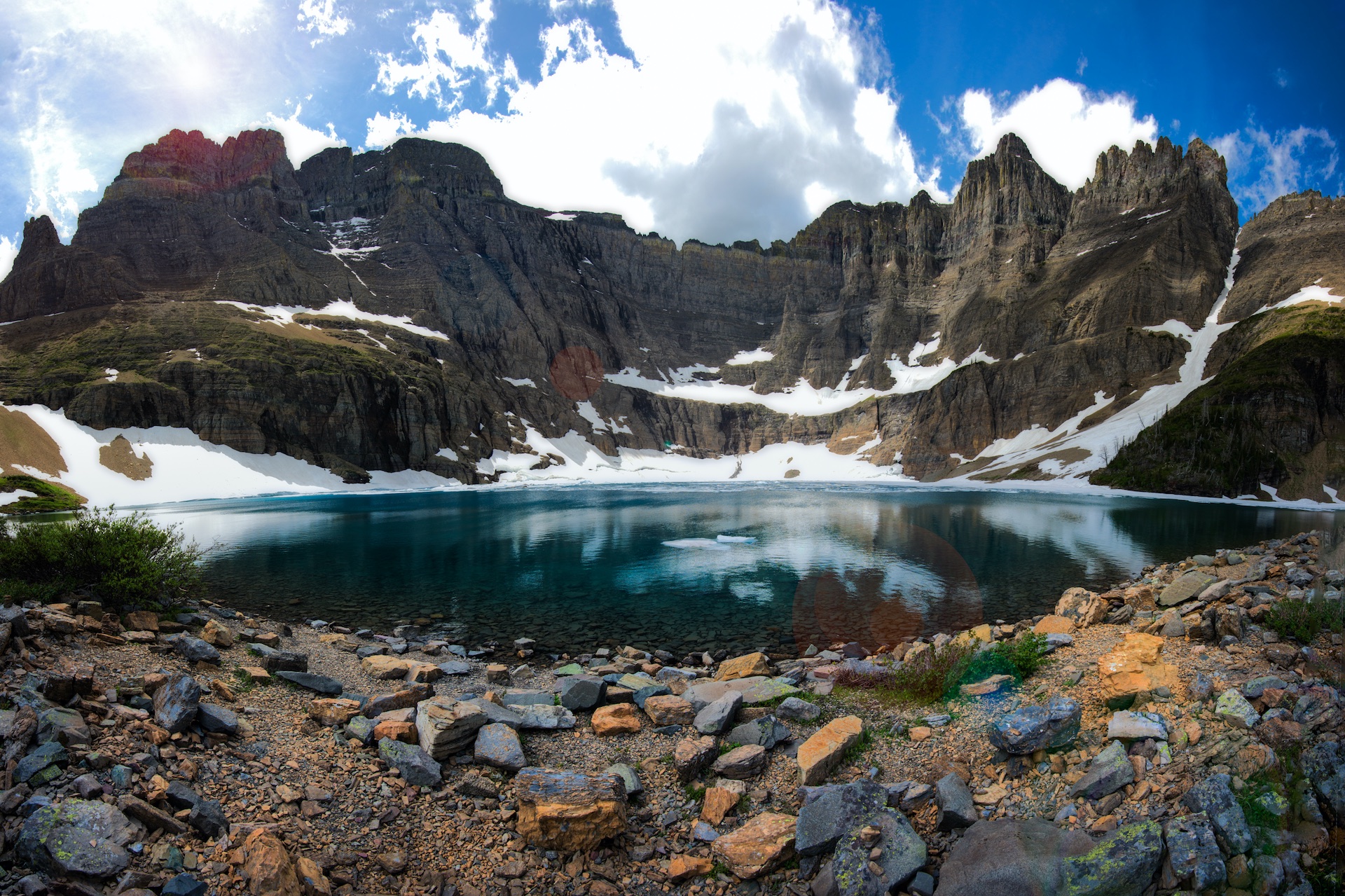 Iceberg Lake
Glacier is home to over 700 lakes, many of which are unnamed, though Iceberg Lake is among its finest. This turquoise body of water gets its names for the many icebergs that are often seen floating in it—a result of the lake's shadowy location among a series of towering peaks. It's located 6,094-feet in elevation and reachable via a 9.3-mile out-and-back trail that begins behind the Swiftcurrent Motor Inn. While moderately challenging, this half-day hike rewards with its offerings: alpine meadows blooming with wildflowers like yellow columbine and white mountain deathcamus, dense pine forest that offers reprieve from the hot sun, and a pristine view of the Ptarmigan Wall, a narrow ridgeline separating the Many Glacier and Belly River valleys. That's all before reaching the lake itself: an absolute sight to behold—not to mention an ideal spot for a picnic. 
Ptarmigan Tunnel
Many Glacier's Ptarmigan Tunnel was a project of the Civilian Conservation Corps, a part of America's America's government work relief program that ran from 1933 to 1942. Volunteer workers constructed this 240-foot tunnel through Ptarmigan Wall as a way for hikers and horses to avoid an even more strenuous climb when traveling between the Many Glacier and Belly River valleys. The tunnel is accessible via the Ptarmigan Tunnel Trail, beginning in the Many Glacier Valley from the same trailhead as Iceberg Lake. 
This challenging, 10.6 out-and-back hike provides spectacular views of the nearby peaks, including 8851-foot Mount Grinnell and 8436-foot Swiftcurrent Mountain, passes among occasional snow fields, and winds alongside thickets of huckleberries, a grizzly bear favorite. Bighorn sheep and mountain goats are often easy to spot as well. A series of long switchbacks make up the hike's final portion, ending at the tunnel itself, which sits at an altitude of 7,200-feet. On its far side, 9,480-foot-tall Natoas Peak and Elizabeth Lake make for picture-perfect vistas.
Granite Park Chalet 
In addition to its park hotels, the Great Northern Railway built 9 chalets throughout Glacier in 1914 and 1915 to help draw more tourists. The Granite Park Chalet was the last one to be constructed. It's also the highest. Sitting 6,693-feet in elevation, on a rocky hillside above Going-to-the-Sun Road, Granite Park is one of only two park chalets that are still operating as backcountry accommodations (the other is Sperry Chalet, approximately seven miles east of Lake McDonald on the park's western wide. Though destroyed by fire in 2017, it's since been rebuilt). 
Lodgings are basic, with 12 rooms that can accommodate between two and six people each. There's also a full-service kitchen, though everyone is required to carry in their own water. 
The chalet is only reachable on foot, and while not technically part of the Many Glacier Valley, hikers can access it via Many Glacier's 7.5-mile Swiftcurrent Pass Trail. The best thing to do is to spend a pre-reserved night or two, and then continue down the 7.6-mile Highline Trail to 6645-foot-high Logan Pass, which sits along the Continental Divide. Along with providing a peaceful place to bed down for the night, the chalet also boasts some epic views, including those of 8,991-foot-tall Heaven's Peak and the greater Livingston mountain range. 
Keep an eye out for wildlife such as bighorn sheep, bald eagles, and grizzly bears both around the chalet and along the trails, as well as summer wildflower blooms brimming with beargrass and Indian paintbrush.