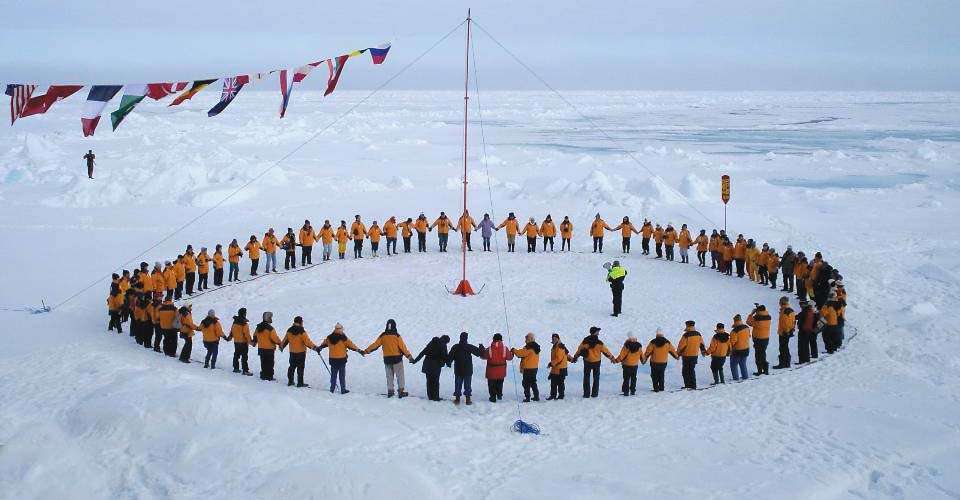 They say all good things must come to an end.  Last week, the Russian ice-breaker 50 Years of Victory – the vessel NHA uses for its Voyage to the North Pole trip – announced that it will be retiring from operating passenger expeditions.  Starting in 2016, the ship will be deployed full-time as a working vessel to keep shipping lanes open for other ships.
Summer of 2015 will be travelers' last chance to experience this unforgettable journey to the top of the world on the most powerful nuclear ice-breaker on the planet.
"It is with mixed emotion we announce the last season of this North Pole cruise," said general manager Jonathan Brunger. "But we are excited to offer one more season of this once-in-a-lifetime experience for those travelers who have been postponing the expedition."
To meet demand for its final year, an extra departure – June 3rd, 2015 – has been added to the 50 Years of Victory's 2015 expedition schedule.  The other two departures are June 15th and June 26th.
To commemorate this "End of an Era," NHA is giving away a FREE NHA Polar Pack + a cozy Patagonia fleece (a $258 value!) to all travelers who book the Voyage to the North Pole for 2015.  In addition to the fleece, our specialized Polar Pack includes a sturdy Kelty daypack, NHA removable photography-finger gloves, and the NHA soft and warm fleece hat and scarf.
If you've been considering a trip to the North Pole for a while now, book soon!  These final 2015 departures will fill up fast.  To book, call (800) 543-8917 to speak with one of our Adventure Specialists.