Spectacular mountain peaks, ice fields, glaciers, canyons, alpine meadows, cerulean lakes, waterfalls, karst-cave systems and thermal springs make the Canadian Rockies a globally acclaimed adventure hub. The national parks of Banff, Yoho and five other contiguous national and provincial parks make the UNESCO Canadian Rocky Mountain World Heritage Site, a global treasure. Rightfully recognized as one of the best places to travel in 2022, the Canadian Rockies is a destination you won't regret exploring.
The Best of Banff and Yoho National Parks
Sculpted by glaciers that gouged deep valleys during successive ice ages, the Canadian Rockies are amongst the most awe-inspiring mountains on Earth. These historic landscapes hold uniquely crafted lakes and valleys, some of which are iconic enough to grace the back of the Canadian twenty-dollar bill. A short hike can take you to the vista known as the "Twenty Dollar View," one of Canada's natural wonders. This view of Moraine Lake from the top of the Rockpile Trail is one of the most photographed locations in all of Canada.
Located inside Banff National Park, Moraine Lake has crystalline, pristine emerald-hued waters. The lake's vivid blue-green color is the result of light refracting off the fine particles of silt coming from the glacier run-off that flows into it. The glacier melt gives this lake, nestled amongst the icy Rocky Mountains, a surreal shade of blue-green which is simply breath-taking.
Banff National Park, Canada's first-ever national park, is lush with forests and limestone canyons that were carved over the course of thousands of years. Lake Louise is another exquisite turquoise lake found in Banff, and it is continuously fed by the Victoria Glacier, and surrounded by grand mountains that rise into the clouds. The area also houses the third highest mountain peak in the Rockies, the Valley of the Ten Peaks. The region is even more spectacular once you consider that it's common to only witness a single peak or two within a valley, but in the Valley of the Ten Peaks, ten jagged snowy mountain peaks make this region a sight to see.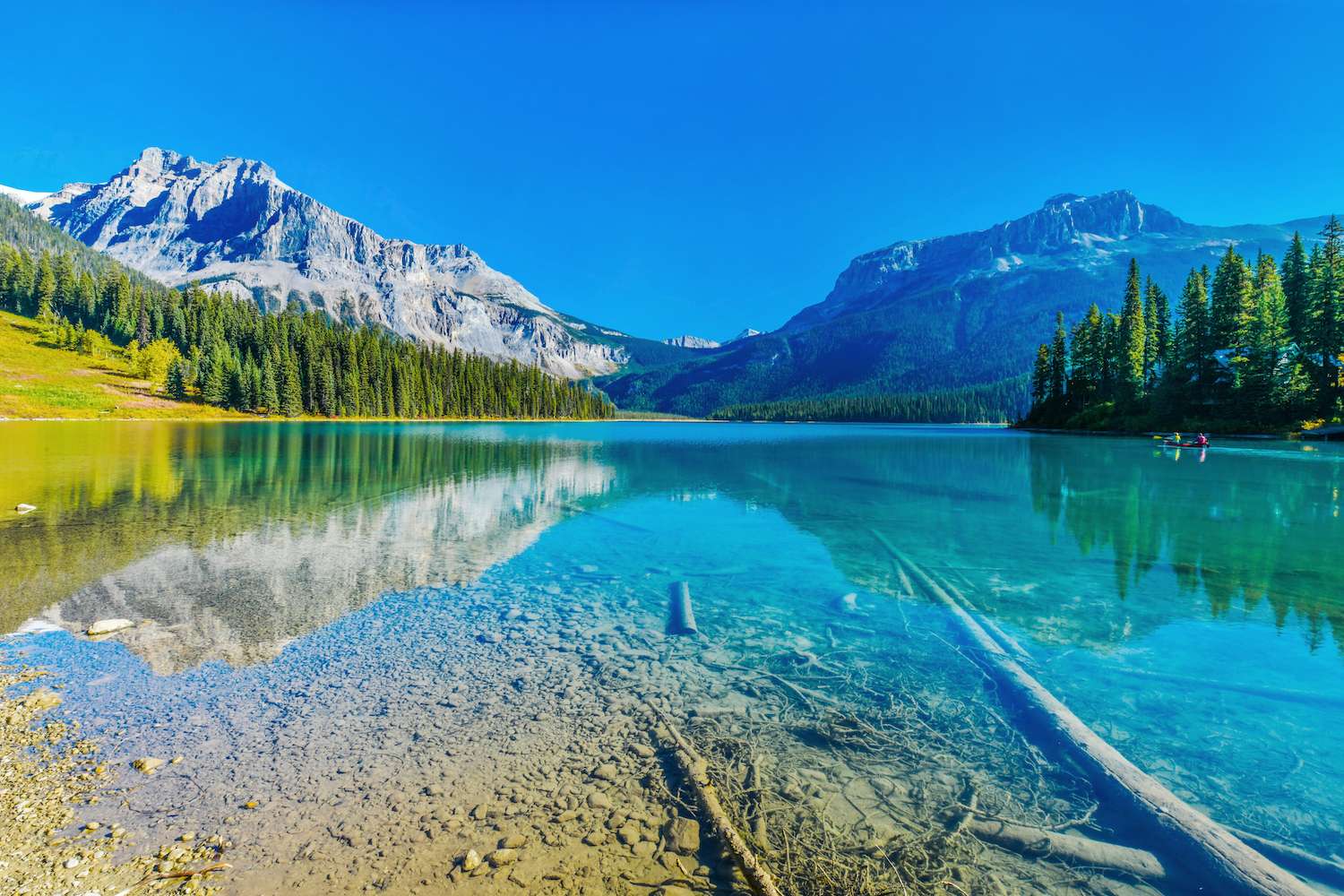 Moraine Lake and the Valley of the Ten Peaks are just some of the famous destinations that make the Canadian Rockies special. On the western slopes of the Canadian Rocky Mountains lies Yoho National Park, renowned for its vertical rock walls, waterfalls and dizzying peaks. The park got its name from the Cree word meaning "awe" or "wonder". An accurate description of the park's spectacular landscape, Yoho is home to the second tallest waterfall in Canada, Takakkaw Falls, which translates to "magnificent" in Cree. The glacial water stems from the Waputik Icefields, plunging 1,224 feet in a silvery ribbon.
Yoho also holds the oldest evidence of complex life on Earth. The Burgess Shale fossil beds hold amazingly detailed relics of a marine ecosystem that existed 500 million years ago—long before the dinosaurs. These fossils are so important that they comprise a key part of the region's recognition as a UNESCO Canadian Rocky Mountain Parks World Heritage Site.
Heli-Hiking through Canada's Bugaboo Provincial Park
Lakes, waterfalls, ancient landscapes and avid wildlife make Banff and Yoho National Parks stand out for their spectacular scenery. With Nat Hab's expert naturalist guides, discover the Remote Peaks & Meadows of the Canadian Rockies. Private helicopter flights take you over alpine meadows and valleys to view some of the grandest alpine scenery on Earth. Millions of travelers visit the Canadian Rockies but only a few get to explore these landscapes from such tantalizing heights.
What is a better place to build a shared memory with friends and loved ones than on a heart-racing, high country helicopter adventure? The gushing waterfalls, sparkling glaciers and snow-covered peaks provide travelers with a once-in-a-lifetime experience to unwind and take in deep breaths of alpine air.
Bugaboo Provincial Park is situated in the Purcell Mountains of southeast British Columbia. World-renowned for its airy, glacier-sculpted granite spires, the Bugaboos offer awe-inspiring mountain and glacier terrain. With many peaks nearly 10,000 feet in elevation, these spires have been shaped by the erosive forces of mountain weather and glacial ice over generations.
Fly deep into the jagged Bugaboos Range to spend three days on wilderness trails amid some of the continent's most dramatic alpine terrain, on a heli-hiking trip you will never forget. Heli-hiking is an exhilarating experience that begins on a helicopter flight that sweeps you over some of the most stunning mountain scenery in the world. You'll be dropped off in high alpine meadows, far from any other hikers or sign of civilization, to trek through the wilderness. What may seem like an activity only suited for extreme adventurers and alpine athletes is accessible to Nat Hab travelers, and we offer guided hikes of varying lengths and ability levels.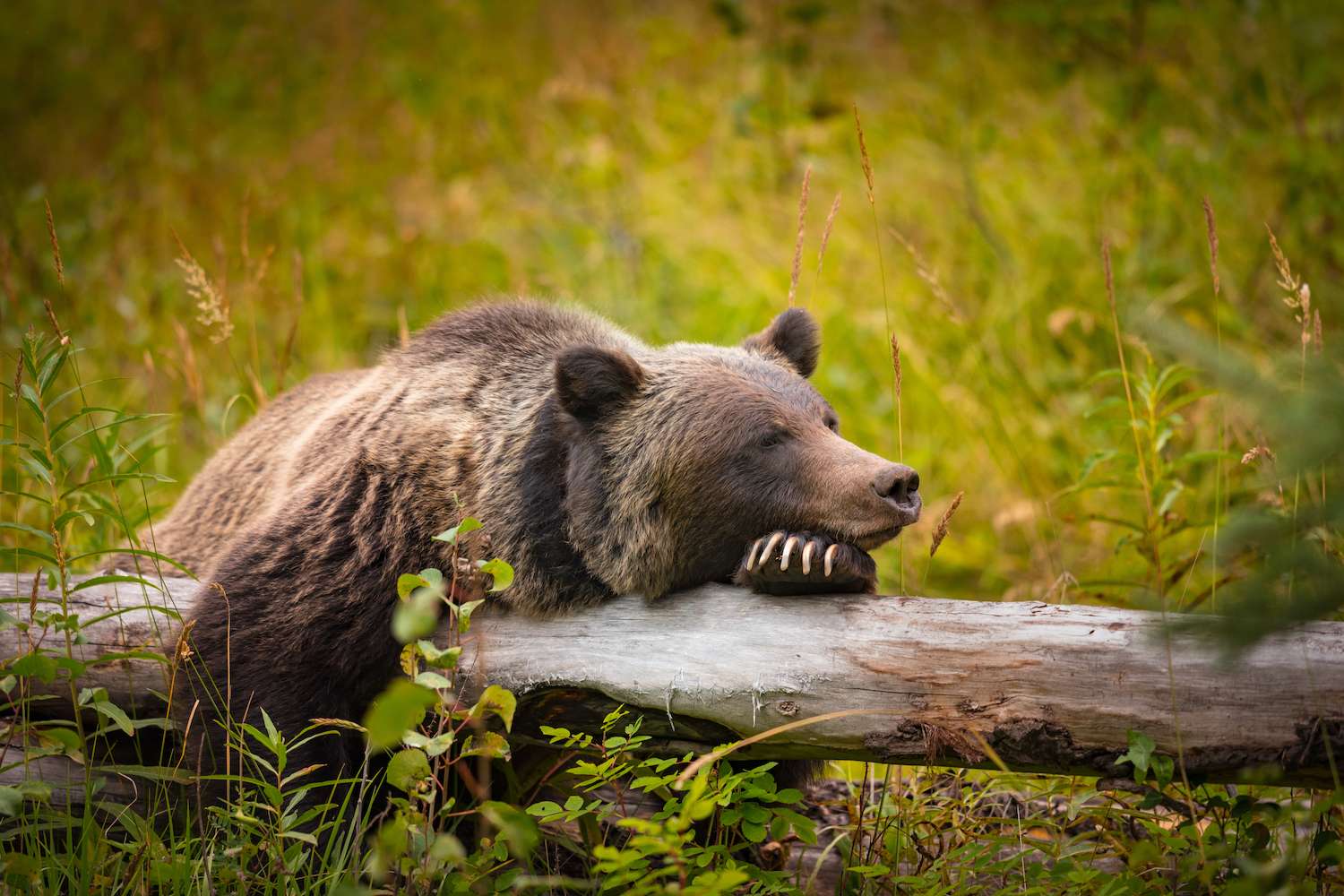 An Exclusive, Private View of Splendid Alpine Terrain 
By traveling with two Expedition Leaders, we can divide the group to offer both easy nature walks and more challenging hikes to rewarding vistas. You'll also get double the attention and information as you travel with two expert naturalist guides. These small groups and guides give every traveler the chance to be immersed in the dazzling scenery of Bugaboo Provincial Park and see wildlife like marmot, ground squirrel, pika, mountain goat, golden eagles or possibly even a moose or grizzly bear.
Private flights by helicopter take you to the deluxe Bugaboo Lodge, a prime location in view of glaciers and rugged granite spires—inaccessible to anyone except lodge guests. Bugaboo Lodge is the original wilderness heli-skiing outpost located nearly 5,000 feet high in the fabled Bugaboos Range, a warm and comfortable base from which to explore the raw mountain terrain beyond. When you're not out hiking, enjoy lodge amenities including a swimming pool, sauna, steam room, massage therapy and games room. A climbing wall and a zip line are also available for guests who crave some extra thrills. Return each day to relax on the deck, soak in the hot tub, rejuvenate in the sauna and enjoy hearty dinners with unparalleled views of the glaciers beyond.
nWhereas many locations in Banff and Yoho national parks are heavily trafficked, private lodging at the Bugaboo Lodge gives you the chance to explore nature that is truly untouched and in its most pristine form. The iconic sights of Banff and Yoho national parks are made even more memorable with access to the luxury Bugaboo Lodge, in a region only a handful of travelers will ever experience.