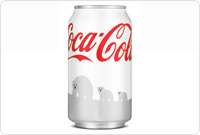 Coke drinker? White is the new red – for the holidays, at any rate. If you've purchased Coke at your local supermarket recently, you may have discovered that there are lots of frosty white cans among the traditional Coca-Cola red.
The repackaged cans, which feature a mother polar bear and her cubs, are part of Coca-Cola's Arctic Home campaign launched this holiday season in conjunction with World Wildlife Fund.
1.4 billion new white cans have been manufactured to honor the polar bear, a Coca-Cola icon since 1922, which the company aims to help protect with a donation of up to $3 million to WWF's polar bear conservation program. You'll also find traditional red cans featuring white polar bears.
As part of the campaign, Natural Habitat Adventures is giving away a trip for two on one of our 2012 Classic Polar Bear Adventures.


The lucky winners will get to see polar bears in their wild home on the shores of Canada's Hudson Bay near Churchill, Manitoba. Enter the sweepstakes on the My Coke Rewards website. The deadline is Dec. 21, 2011, with a mail-in entry postmark deadline of Dec. 22.
Coca-Cola is making an initial $2 million donation to WWF and inviting others to join the effort. Anyone who wants to help the polar bears can text the package code to 357357 to donate $1 to WWF. You can also donate online at the Arctic Home website, or donate your My Coke Rewards points. Coca-Cola will match all consumer donations made through March 15, 2012, up to a total of $1 million.
Carter Roberts, president and CEO of WWF, is excited about the chance to partner with Coca-Cola on such an important project. In a news release from WWF, Roberts said, "By working with Coca-Cola, we can raise the profile of polar bears and what they're facing, and most importantly, engage people to work with us, to help protect their home.
"Polar bears inspire imagination. They're massive, powerful, beautiful and they live nowhere else except the Arctic. Their lives are intimately bound up with sea ice, which is now melting at an alarming rate," said Roberts.
"Arctic Home" extends Coca-Cola's support of WWF's polar bear conservation efforts and builds upon the organizations' global partnership focused on freshwater conservation. Together, Coca-Cola and WWF are working to conserve freshwater resources around the world, use water more efficiently, and hold down carbon emissions in Coca-Cola's manufacturing operations.
Additionally, they are working to promote sustainable agriculture in the Coca-Cola company's supply chain. By combining strengths and resources, Coca-Cola and WWF are able to go beyond what each organization could achieve on its own.
Nat Hab is excited to support this fruitful partnership by being a part of the Arctic Home project through our polar bear tour sweepstakes—enter today!