In these uncertain days of environmental onslaught of our planet's wild places and species, I have a hard time looking into my own children's eyes without some concern. I believe in my heart they will not experience the wonders of nature the same way I did as a kid. A nature that I have been fortunate enough to enjoy during my long career as a wilderness guide and conservationist.
In my previous Good Nature blogs, I have alluded to the fact that our planet is experiencing the worst spate of habitat change and species die-offs since the loss of dinosaurs 65 million years ago. Serious scientists estimate we're now losing species at 1,000 to 10,000 times the background rate of extinction, with literally dozens going extinct every day. It could be a bleak future indeed, with as many as 30-50 percent of all species possibly heading toward extinction in the next 30-50 years.
I am an eternal optimist, however, and I think it is very possible to put some brakes on the current destruction. I say that partly based on a wonderful experience I had 15 years ago working as an ecotourism consultant with the scientific development team at the Iwokrama National Park in British Guyana.
This protected rainforest covers nearly 1,500 square miles and is one of the last four pristine tropical forests on the planet. The park is located at the juncture between the Amazonian and Guianan biomes and is one of the unknown gems of Neotropical rainforests. It contains rich fauna and flora, including species such as the giant anteater and the giant river otter. Iwokrama also has the highest species richness for fish and bats of any area this size in the world.
In this abundant nature area, indigenous Makushi Indians have lived a peaceful life in harmony as hunters and gatherers for hundreds of years. Today, less than ten thousand of them are spread out among 30 communities and their traditional livelihood is under attack.
The biggest threats to Iwokrama and its indigenous people are mining, logging and unsustainable slash-and-burn agriculture practices. When the park was established to mitigate those threats, a key conservation strategy was to engage the locals and have them be part of the safeguard of their own ancestral land. The question for our development team was how to do that without jeopardizing the indigenous way of traditional livelihoods?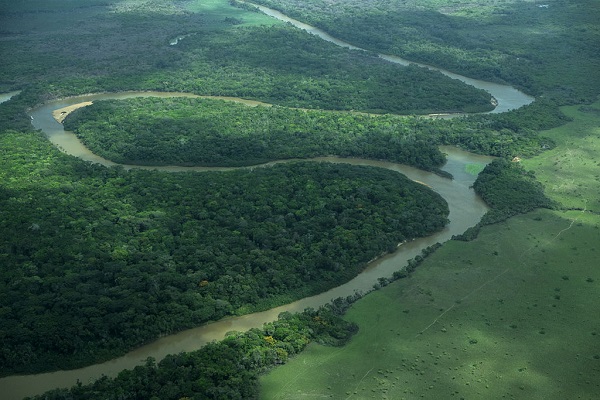 Rupununi River at the Edge of Iwokrama National Park  © Jonathan Wilkins [CC BY-SA 3.0] via Wikimedia Commons.
Firstly, we supported Iwokrama in establishing a local native council, which represented the 16 communities adjacent to the park. Committed to the principles of sustainable community forestry, this council worked on social and economic development through the affirmation of heritage, culture, traditional knowledge and indigenous rights.
It was also during this initial council work that Dr. Graham Watkins had the idea to involve local kids in our conservation efforts. That led to the establishment of junior wildlife clubs in select villages with members ranging from 8 to 20 years old. The vision of the clubs was to expose local youth to natural resource management by developing awareness and teaching the value of local plants and animals. In practice, that could be done by establishing local wildlife inventories, conducting wildlife monitoring and understanding the intricacies of conservation issues.
Club membership was offered to all kids who were interested, allowing students to successfully gain first-hand nature experience in their environment. The success was also based on the acceptance by and collaboration with the village schools, where the club activities were integrated into the school curriculum. Today, a total of 11 wildlife clubs have been established in response to a community request to grow capacity in natural resource management.
Iwokrama provided initially small grants for insect nets, wildlife guide books, microscopes, club houses and camping equipment. The kids were soon out in the wild with rangers, elders and teachers, learning about the wonders of nature by cleaning up villages, collecting, identifying and cataloging specimens.
Every year these activities culminate in a wildlife festival with competitions between villages that even include wildlife theater and poetry. These festivals provide an opportunity for club members to exchange ideas, talk about club activities and to celebrate the area's rich wildlife. Generally, all these activities are about animals, plants, forests, wetlands and savannas, but there are also discussions on social issues selected by the children. Past social issues have included HIV/AIDS, domestic violence and substance abuse. Volunteers from organizations including the Guyana Red Cross, Help and Shelter and the Makushi Natural Research Unit provide guidance and advice on these key social issues.
Today, many of the children from the wildlife clubs continue careers in local conservation work. At the Youth Learning Centre of the Bina Hill Institute near Iwokrama, young adults learn natural resource management, forestry, wildlife management, agriculture and ecotourism in an effort to become the future stewards of their community. The result has been an amazing build up of Guyanese conservation leaders.
While working at Iwokrama, I realized that the concept of youth wildlife clubs had already spread to other threatened areas in developing countries. One of the initial initiatives of this kind was the Wildlife Clubs of Kenya, WCK, formed in 1968 by Kenyan students. It was the first conservation education program of its kind in Africa. According to the famed George Schaller, "WCK is the most effective grass-roots program of its kind in all of Africa." After half a century of service, WCK has helped educate over one million young Kenyans and placed many of them in positions of political influence.
Wilderness Safaris, Natural Habitat Adventures' longtime operational partner in Africa, supports the Children in the Wilderness programs in Botswana, Malawi, Namibia, South Africa, Rwanda, Zambia and Zimbabwe. Their aim is to facilitate sustainable conservation through leadership development and education of rural children in these countries. This is achieved in a variety of ways from supporting four-day workshops at Wilderness Safaris' camps to running eco-clubs and follow-up programs at schools within the rural communities that live on the edge of wilderness areas.
Even small island nations have seen the opportunity to affect kids through the formation of wildlife clubs. In the Seychelles, a small archipelago in the Indian Ocean, which is particularly threatened by rising ocean levels, a NGO Wildlife Clubs of the Seychelles was established in 1994.
Protecting our world is not only about teaching and exciting kids living in far-away developing countries but also to inspire our own kids in the western world. Some of them could develop into our future global environmental game changers and ambassadors. Natural Habitat Adventures has had the privilege to engage kids on our adventures, and we have a very successful family adventure travel program to places like Galapagos, Costa Rica and many of the African countries mentioned above.
The message from all these initiatives is that we owe it to our offspring to teach them about precious nature at an early age. They are our future hope of stopping this current onslaught. Go kids, go!