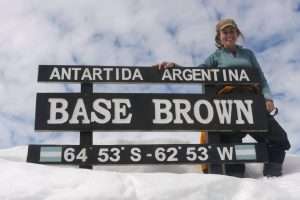 Cathy grew up in Michigan and received a degree in Communications from Grand Valley State University. She was a curator at the Urban Institute of Contemporary Art and worked as a photojournalist. When her three children were young, she began teaching yoga and meditation.
In 2009 she realized she wanted a more global education for her kids and bought one-way tickets to Argentina. She has spent the last decade exploring every continent as a travel writer for Lonely Planet, CNN, Thrillist, Matador Network, etc.  Through that work she has dog sledded Norway under the Northern Lights, kayaked the western coast of Antarctica, hot air ballooned over the Masai Mara in Kenya, summited Mt, Kilimanjaro in Tanzania, performed with a Congolese Pygmy band in Borneo, scuba dived with sharks in the Galapagos, climbed the Himalayas and white water rafted some of the fiercest rapids on earth. She now lives on an organic farm in the Andes of northern Patagonia and works closely with the Baniwa and Yanomami indigenous communities in the Amazon of Brazil.  Her personal passion is medicinal and sacred plants – she teaches online herbalism classes and often hosts in-person retreats on her property in Argentina.
In addition to her work with Global Leadership Adventures as a mentor (most recently in Costa Rica for the sea turtle conservation program), she works with refugees and trafficked women. She is currently starting a nonprofit in Appalachia, Foxlily Farm, which is a residential healing center for trafficked women.
Read some of Cathy's recent posts on Good Nature:
[latestbyauthor author="cathyb" show="10″]