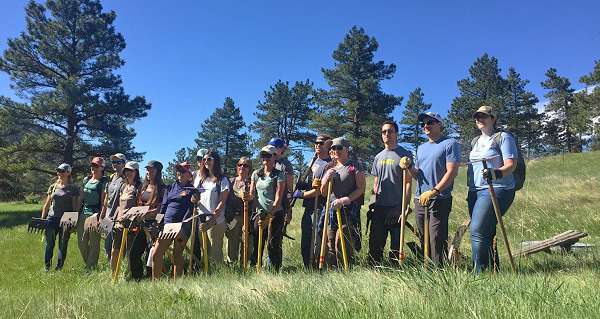 On a sunny spring morning in the Colorado foothills, 18 Natural Habitat Adventures office employees grabbed some tools and got to work building a new trail on nearby Heil Valley Ranch open space. By the time they were done, these staff volunteers had completed the finish work on about 2,000 feet of multi-use trail, connecting a new recreational loop that traverses a forested hillside at the base of the Rocky Mountains.
This May 2017 volunteer project was a continuation of the trail work that Natural Habitat employees completed in October 2016, when staff volunteers worked on another section of trail at the same site. The entire trail loop is scheduled to open for public use by late summer 2017 and will offer enhanced recreational access for mountain bikers and hikers to explore this scenic natural area.
Like other trail systems across Colorado's Front Range, Heil Valley Ranch experiences a large volume of recreational users, including hikers, equestrians and mountain bikers. New trails like the one that Nat Hab volunteers helped build will help to better distribute people, horses, and bikes across the area's trails, creating more sustainable recreational opportunities for all while also protecting the surrounding natural environment.



Expert trail crews from Boulder County Parks & Open Space showed Nat Hab's volunteer team how to effectively use McLeods and pick mattocks as tools to refine the trail, including lifting out rocks, evenly raking the spoils downhill, smoothing out the trail tread, and cutting the backslope at the correct angle. This finish work was part of the final steps to prepare the new trail for hikers and mountain bikers to enjoy when the trail officially makes its public debut later this year.
Natural Habitat Adventures is proud to support local nonprofits like Volunteers for Outdoor Colorado and community projects like this one that promote responsible recreation in wild areas near our Boulder County headquarters. Our active employees all share a passion for outdoor recreation, so 18 of us were thrilled to spend half of our Wednesday giving back to our local community by helping complete this new multi-use trail on the beautiful open space between Boulder and Lyons.



As "The Nature People," our Colorado office employees take great pride in supporting the abundant outdoor recreation opportunities that make our state such a great place to live, work and play. We view ourselves as active stewards of our local communities' treasured natural resources and are excited that this sustainable trail will enable more people to get outside and immerse themselves in nature.
We're looking forward to biking and hiking on the new Heil Valley Ranch trail later this year!