Gorilla trekkers in Bwindi Impenetrable National Park may have felt the ground vibrate the day Ride 4 A Woman received word that Natural Habitat Adventures would support entrepreneurial education of Buhoma women. Nat Hab selected Ride 4 A Woman to receive one of their 2017 philanthropy donations to help further aid their admirable initiatives.
"This is one of the best surprise emails of this week, and we screamed out loud this morning when we shared the news with the ladies," Dennis and Eve, founders of Ride 4 A Woman wrote to Dr. Court Whelan, Natural Habitat Adventures' Director of Sustainability & Conservation Travel. "If you have seen them dance, there were vibrations on the floor."
When you think of Bwindi Impenetrable National Park in Uganda, thoughts of mountain gorillas and lush African forests instantly come to mind. You don't, however, often think of Buhoma, a local village seated on the edge of the park. In Buhoma, the women are the backbone of the community; raising their families, working the land and tending to their animals, all of which limits their ability to gain entrepreneurial skills and generate income. This is where Ride 4 A Woman comes in.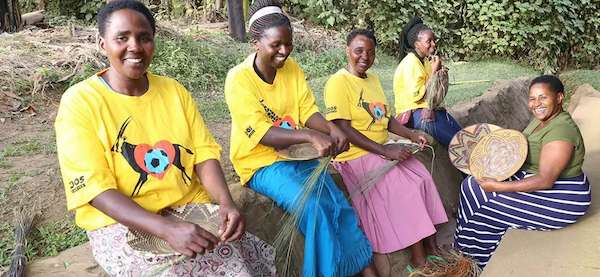 In 2009, Habasa Evelyne and her husband, Rubalema Denis, created Ride 4 A Woman to help women in Buhoma generate income by renting bicycles to local tourists. Their program took off and has grown into a center where women can learn mechanical skills, sewing, baking, weaving and other trades to start businesses of their own. The center not only teaches valuable skills, but it provides opportunities for the Buhoma women to become entrepreneurs and, in turn, support their families.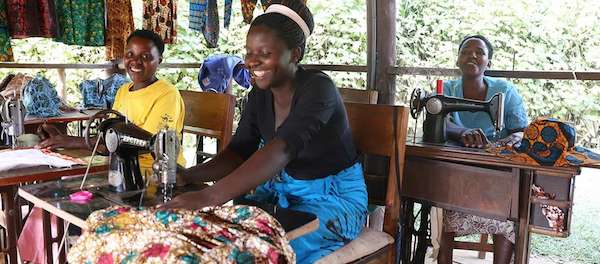 Natural Habitat Adventures was thrilled to provide two new sewing machines to Ride 4 A Woman to help their training and production center. Ride 4 A Woman was equally thrilled, as the center filled with screams of excitement when the machines arrived.
"This is really huge for us and we are going to do so much with these machines," Eve and Dennis wrote. "Thank you, Nat Hab, for giving the women in this community a chance to learn a skill and change their lives for better."
On Natural Habitat Adventures' Uganda safaris, travelers hike through Bwindi Impenetrable Forest in search of gorillas, an endangered species. Though gorillas were recently reclassified from critically endangered to endangered, they are still at risk. Ecotourism practices in the area work to protect both the species and their habitat, but gorillas continue to face threats from poaching, recurring civil unrest and human-introduced diseases, according to The International Union for Conservation of Nature.
All of Natural Habitat Adventures' scheduled Uganda trips, including the Ultimate Gorilla Safari and The Great Uganda Gorilla Safari, spend overnights in Buhoma after a day among gorillas. Community support is an integral part of gorilla conservation and is crucial to this endangered species' survival. Just as Natural Habitat Adventures works to support the endangered gorillas, they also recognize the importance of supporting local communities. With the help of communities like Buhoma, gorilla populations are climbing, giving locals and conservationists worldwide means to celebrate.