With the New Year approaching, travel media outlets such as Lonely Planet, Fodor's and National Geographic have been curating lists of the best places to go in 2019. Several of Nat Hab's destinations have been highlighted, from Bhutan's mystic mountains to Zimbabwe's wildlife-rich floodplains. Here are 19 nature journeys of note to inspire your travel resolutions for the coming year: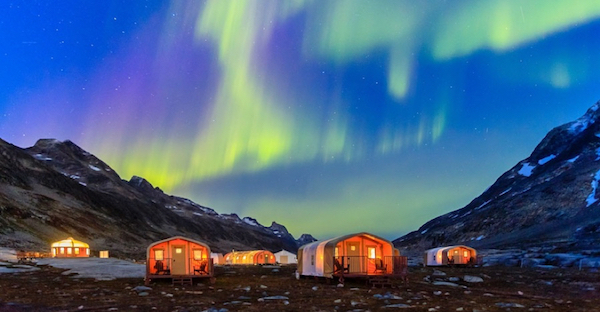 Ralph Hopkins
1. Greenland
National Geographic Traveler's Best Trips of 2019
A destination for the true adventure seeker, our remote base camp at the edge of the Greenland ice sheet brings us into contact with towering icebergs, diving whales, thunderous falls and dazzling northern lights. For those searching for the ultimate Arctic experience, the rugged beauty of Greenland is beyond compare, which is why Discover Greenland: The Natural Habitat Experience has been featured as one of National Geographic Traveler's Best Trips of 2019. 2019 marks 10 years of self-rule for the world's largest island, so why not join the celebration?
Carolyn O'Connell
2. Namibia
Condé Nast Traveler's 19 Best Places to Go in 2019, Town & Country's Best Places to Travel in 2019 and The Wall Street Journal's 10 Most Intriguing Travel Destinations for 2019
Namibia is a safari destination like no other, a land of shimmering sands and desert-adapted wildlife. Town & Country talks of "Namibia's intense beauty: the red dune–framed salt pan of Sossusvlei; the stupendous rock formations of Damaraland; the mashup of desert and ocean along the Skeleton Coast, riddled with old shipwrecks." Simply put, Nambia is enthralling. The towering dunes, glowing in shades of rose and ochre as dawn turns to dusk, have diamonds in their depths, tucked into the sculpted ridges of sand by waves and wind. Desert-adapted species such as lion, elephant, rhino and oryx roam across the arid plains. Fly over the world's tallest dunes, gaze at an open night sky studded with stars and discover the country's desert wonders for yourself on Nat Hab's Namibia safaris.
Richard de Gouveia
3. Uganda
Deep in the rain forest is a window into the life of the mountain gorilla. Huge silverbacks forage for leaves while tiny infants nestle into their mothers, their curious, liquid brown eyes peeking out at onlookers. The 'Pearl of Africa' is home to the world's largest population of mountain gorillas, and The Great Uganda Gorilla Safari gives you a chance to hike into the misty jungle in search of these magnificent creatures. You'll also trek to find chimpanzees, following in the footsteps of Jane Goodall, and see the Big Five (including tree-climbing lions!) during safari drives in Queen Elizabeth National Park.
Melissa Scott
4. Belize
Lonely Planet's Best Places to Visit in 2019 and Condé Nast Traveler's 19 Best Places to Go in 2019
Belize's Caribbean coast is fringed by the world's second largest barrier reef, and visitors flock to snorkel over corals and colorful fish in this marine hotspot. Lonely Planet and Condé Nast hail Belize as a rising luxury destination, with new eco-resorts and extensive government measures to conserve this unique environment. Look for jaguars in the jungle, canoe through subterranean caverns and visit magnificent Mayan temples on an Ultimate Belize Nature Safari.
Brad Josephs
5. Chengdu, China
Condé Nast Traveler's 19 Best Places to Go in 2019
Chengdu, which Condé Nast calls "the Middle Kingdom's coolest city," is the capital of Sichuan. Once a stop along the Silk Road, shops still bustle with silk brocades and satins. The province is also famous for its fiery cuisine, infused with Sichuan peppercorns, garlic and chilis. Most significantly, this lush region is home to the world's largest concentration of giant pandas. You can encounter these playful bears at the Chengdu Panda Base on Nat Hab's Nature Odyssey to the Wild Side of China.
6. Bhutan
Condé Nast Traveler's 19 Best Places to Go in 2019, Town & Country's Best Places to Travel in 2019, Forbes' 19 Best Places to Travel in 2019 and Fodor's Go List 2019
Bhutan, a tiny Himalayan kingdom nestled into the mist-veiled mountains, is described by Condé Nast as a "Shangri-La of sorts," complete with ancient monasteries, verdant valleys and hillside villages. As the only carbon-negative country in the world, Bhutan is the emblem of sustainable development, and due to its high-value, low impact tourism policy, Bhutan's natural realms remain blissfully unspoiled. Climb to the cliffside temple known as the "Tiger's Nest," search for shaggy takin (the country's national animal) and walk among fluttering prayer flags on a Nat Hab trip to see the Natural Jewels of Bhutan & Nepal.
Emily Kautz
7. Zimbabwe
Lonely Planet's Best Places to Visit in 2019, Town & Country's Best Places to Travel in 2019 and Frommer's Best Places to Go in 2019
Lonely Planet acclaims that Zimbabwe is "not only one of Africa's safest destinations, it's one blessed with ultra-friendly locals, Big Five-filled national parks, World Heritage-listed archaeological ruins, forested mountains and, of course, the mighty Victoria Falls," the world's largest waterfall by volume. The massive elephant herds here are among the largest in Africa, and abundant wildlife can be found in Zimbabwe's crown jewel, Hwange National Park. See Zimbabwe's best game reserves on our Hidden Jewels of Zimbabwe & Zambia safari and Southern Africa Safari Cruise.
8. Sri Lanka
Lonely Planet's Best Places to Visit in 2019
According to Lonely Planet, Sri Lanka is "having its moment in the equatorial sun," and there's now more than ever for intrepid travelers to soak in: timeless temples, flavorful food, verdant tea estates and a host of endemic wildlife. In Sri Lanka's national parks, seek out Asian elephant, leopard, sloth bear, leaf monkeys, Indian peacocks and blue-tailed bee-eaters. Look for great blue whales off the coast of golden beaches. Explore this captivating global biodiversity hotspot on a Sri Lanka Wildlife Safari.
Emily Kautz
9. Manitoba
Lonely Planet's Best Places to Visit in 2019
Churchill, Manitoba is described by Lonely Planet as a "crossroads for the country's megafauna." In this town where the boreal forest meets the tundra, polar bears roam among discs of floating ice. During the summer, vivid wildflowers dot the landscape as beluga whales swim in the Arctic blue waters. When all is quiet in winter, the northern lights burn bright as emeralds overhead. On one of Nat Hab's tours, you'll pay witness to these natural phenomena, and hear the stories of First Nations and Inuit people who have inhabited this remote land for generations.
Joel Davidson
10. Kenya
Forbes 19 Best Places to Travel in 2019
The Great Migration, Maasai warriors and fiery sunsets over the African savanna encapsulate what Forbes calls the "quintessential safari experience." As one of the planet's most wild and beautiful places, Kenya is all-encompassing and alluring. Travel to this fabled land and venture into the heart of the African bush on one of our Kenya safaris.
Court Whelan
11. Grand Canyon
Condé Nast Traveler's 19 Best Places to Go in 2019
In February of 2019, the Grand Canyon celebrates its 100th anniversary as a national park, making it the perfect time to journey into the Canyons of the American Southwest and immerse yourself in this geological wonder. As you take in this breathtaking spectacle, watch the sun paint the rocks in rainbow shades and the Milky Way glisten overhead at night.
12. Scotland's Highlands and Islands
Lonely Planet's Best Places to Visit in 2019 and Condé Nast Traveller's Top Holiday Destinations for 2019
Scotland's heather-clad highlands and enchanted isles unveil natural and cultural riches, from storied castles to seaside cliffs and ancient forests. Explore the open moors and coasts teeming with whales, dolphins and seals on a trip to Scotland's Wild Highlands and Islands.
Tom Nolle
13. Mexico City
Lonely Planet's Best Places to Visit in 2019, Fodor's Go List 2019 and Forbes 19 Best Places to Travel in 2019
According to Lonely Planet, a cultural renaissance is flourishing in Mexico's capital, and our Kingdom of the Monarchs adventure begins and ends in this vibrant city of cuisine, art and architecture. Travelers will admire Mexico City's modern marvels, colonial cathedrals and pre-Hispanic archeological sites, and after being named the World Design Capital in 2018, there's no better time to go. 
14. Lake Titicaca
Fodor's Go List 2019
Lake Titicaca is the highest navigable lake in the world, where travelers can learn indigenous traditions and local legends while sailing among floating reed islands. Incan mythology considers the sapphire-blue waters to be the birthplace of the world, where the god Viracocha emerged to create the sun and stars. You can add Nat Hab's Lake Titicaca Extension to any of our Peru trips, including The Great Amazon River Cruise and Galapagos & Machu Picchu: Icons of Nature & Culture.
Elissa Poma
15. Patagonia
Condé Nast Traveller's Top Holiday Destinations for 2019 
Condé Nast raves that "Patagonia's still, epic landscapes increasingly appeal as one of the last true escapes left on earth." Our world-famous EcoCamp Patagonia is the epitome of this notion, providing a striking view of the ice-crowned granite spires of Torres del Paine. Track elusive pumas, photograph turquoise glacial lakes and hike past mountain peaks bathed in rosy alpenglow on our Peaks, Lakes & Glaciers of Patagonia adventure.
Anthony Goldman
16. Botswana
Forbes 19 Best Places to Travel in 2019
Secluded luxury safari camps in a wildlife enthusiast's dreamscape are what make Botswana a top travel destination for 2019. Forbes notes that intimate tented camps are the perfect way to "connect with wildlife and nature, but still have the opportunity to enjoy the kind of comfort and luxury that makes a difference in a stay." In Botswana's exclusive reserves, search for herds of elephants and leopards lounging in acacia trees while staying in lodgings that evoke the romantic ambiance of a classic African safari.
Wendy Redal
17. Portugal
Town & Country's Best Places to Travel in 2019
The Douro Valley holds some of the most romantic wine country in the world, and travelers have the opportunity to Paddle Portugal's River of Wine on a Dionysian odyssey through this unique corner of Old-World Europe. Along the way, stop at fine manor houses overlooking terraced vineyards to feast on traditional Portuguese dishes and rare wines.
Brady Archer
18. Rwanda
Town & Country's Best Places to Travel in 2019
In terms of unparalleled wildlife experiences, coming face to face with an endangered mountain gorilla tops the list—and trekking through Rwanda's Volcanoes National Park in search of these wondrous creatures provides for an absolutely unforgettable experience. Gorilla families, soaring waterfalls and golden monkeys await the adventurous traveler on an Ultimate Gorilla Safari.
19. Costa Rica
Town & Country's Best Places to Travel in 2019
Costa Rica's natural gems are endless: chattering monkeys, fragrant orchids, resplendent quetzals, bright tree frogs, iridescent hummingbirds, sloths, spinner dolphins and sea turtles, to name a few! In this country of cloud forests, stunning beaches and active volcanoes, stay at secluded ecolodges which reveal luxury in the tropics on Nat Hab's Natural Jewels of Costa Rica and Costa Rica Wilderness Explorer trips.